AZAD Wheels
Symmetry is the inherent design philosophy
behind wheels. Wheels are round, and in
order to achieve the true circular weight
distribution, wheels in the past have been
designed with radial symmetry in mind. As
technology advanced and computer algorithms
shortened the R&D process from years to
days, directional wheels were being designed
and tested in real time. For this
2014 Mercedes Benz CLS 550
our customer wanted Mercedes Benz wheels
with a deep concave and *True Directional design.
A true directional wheels mean that both the
driver side and the passenger side wheels
are facing the same direction; mirror images
of each other. The wheels below caught the
customer's eyes, and he decided on the
22″ AZAD Wheels AZ911 Silver Face with Chrome Lip.
Wheel and tire set up is 22×9 & 22×10.5 wrapped
with 235-30-22 & 285-25-22 Lionhart Tires.

What are your thoughts on directional wheels? Do you still prefer radial symmetry?
(*Note: Minor plastic trimming is need in the front to fit this application)
For any detailed information feel free to give us a call.

(888) 814-1158

www.AudioCityUSA.com
---
Customize withAZAD Wheels

ㆍ Vehicle – 2014 Mercedes Benz CLS 550

ㆍ Wheels – Front: 22×9″ / Rear: 22×10.5″ Azad Wheels AZ911 Silver Face with Chrome Lip

ㆍ Tires – Front: 255-30-22 / Rear: 295-25-22 Continental Tires DWS06
---
No Credit Needed – Wheel Financing
APPLY NOW!
---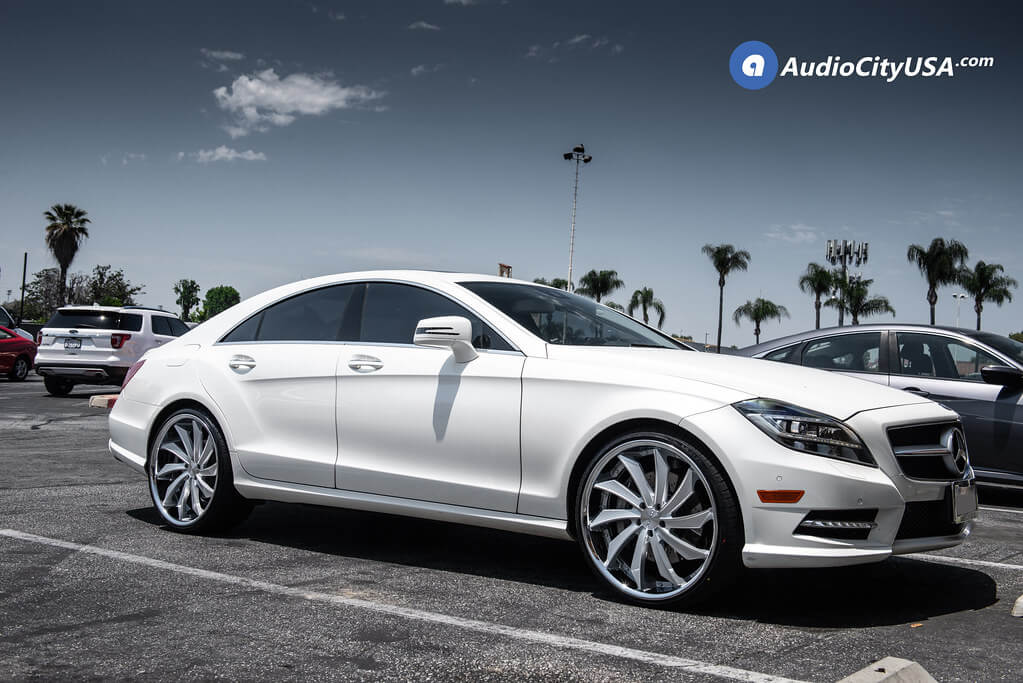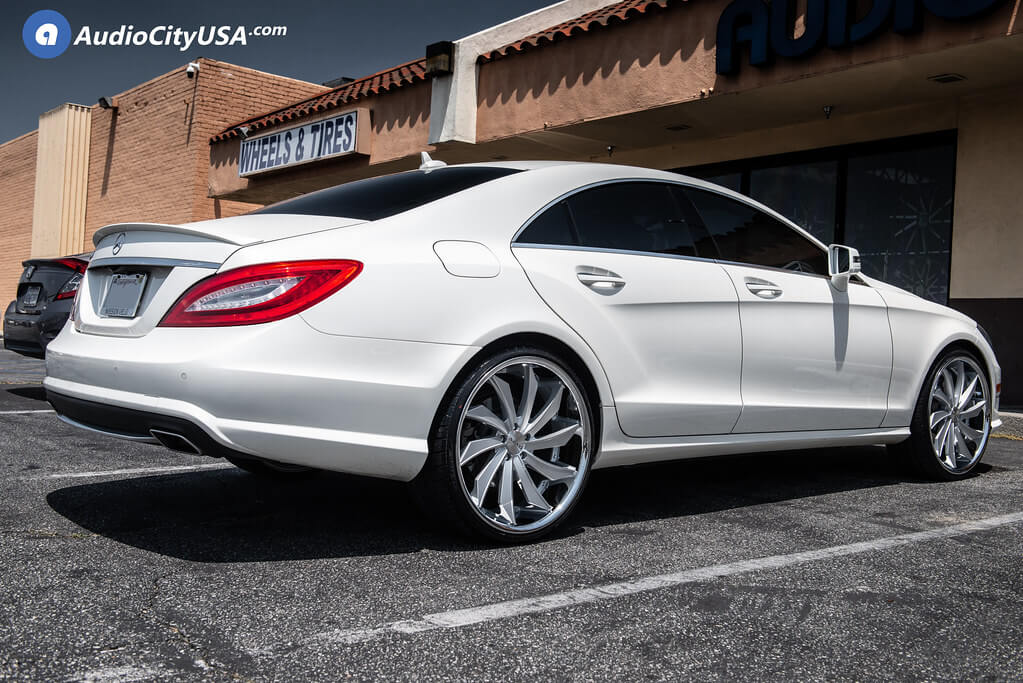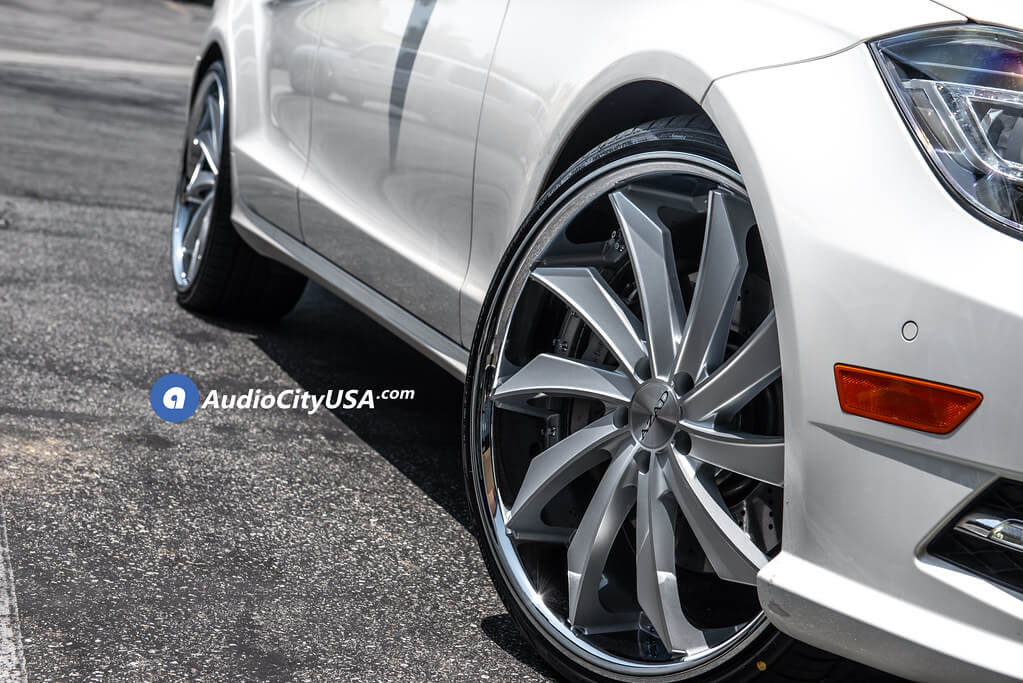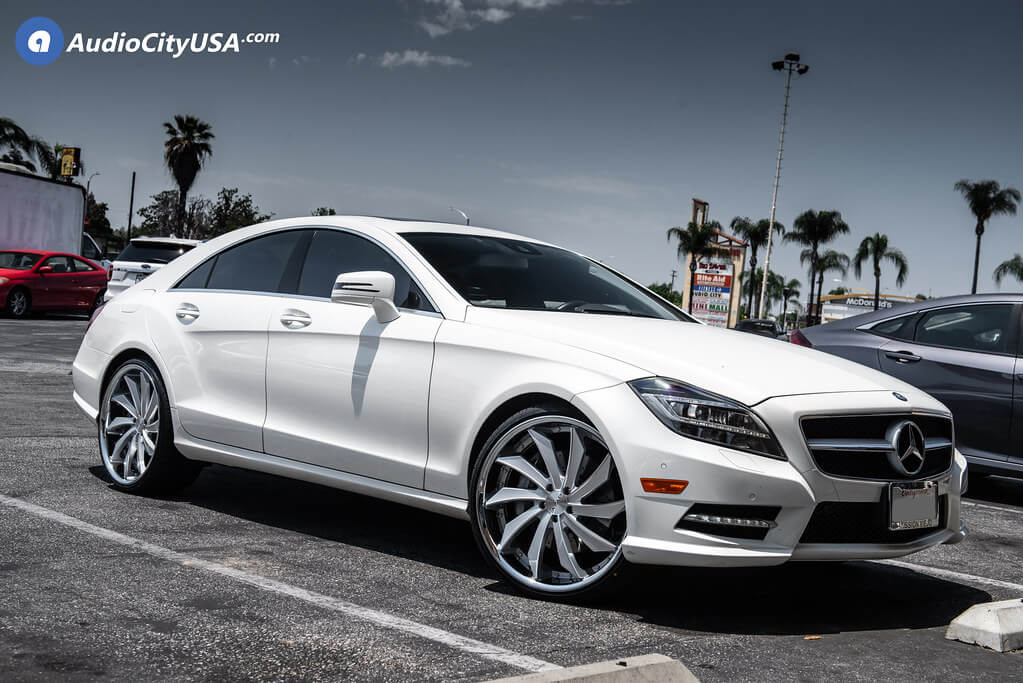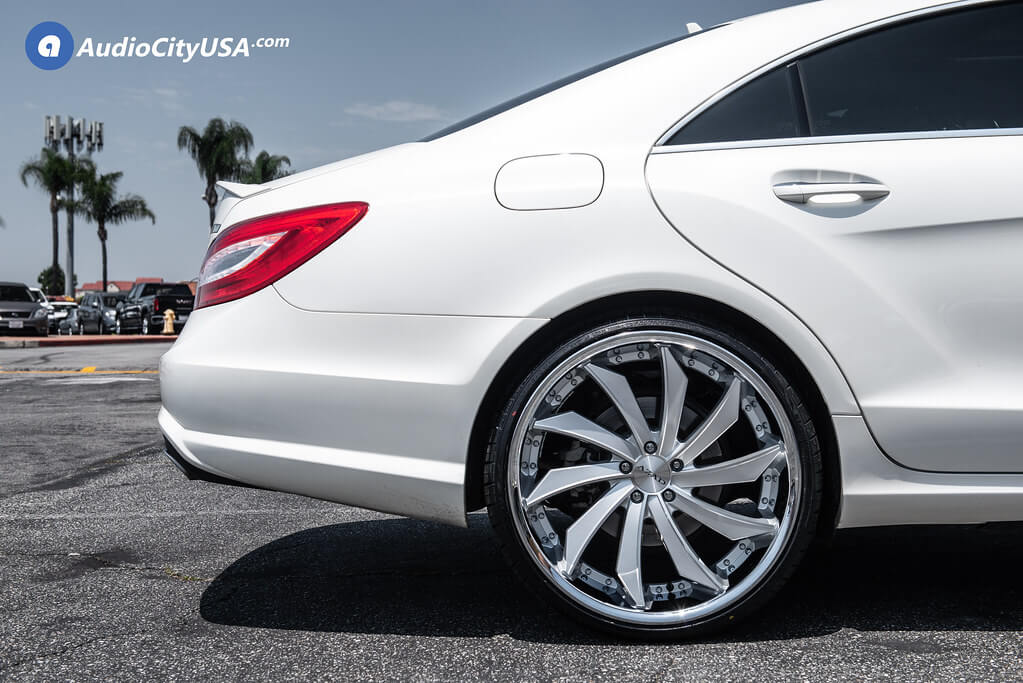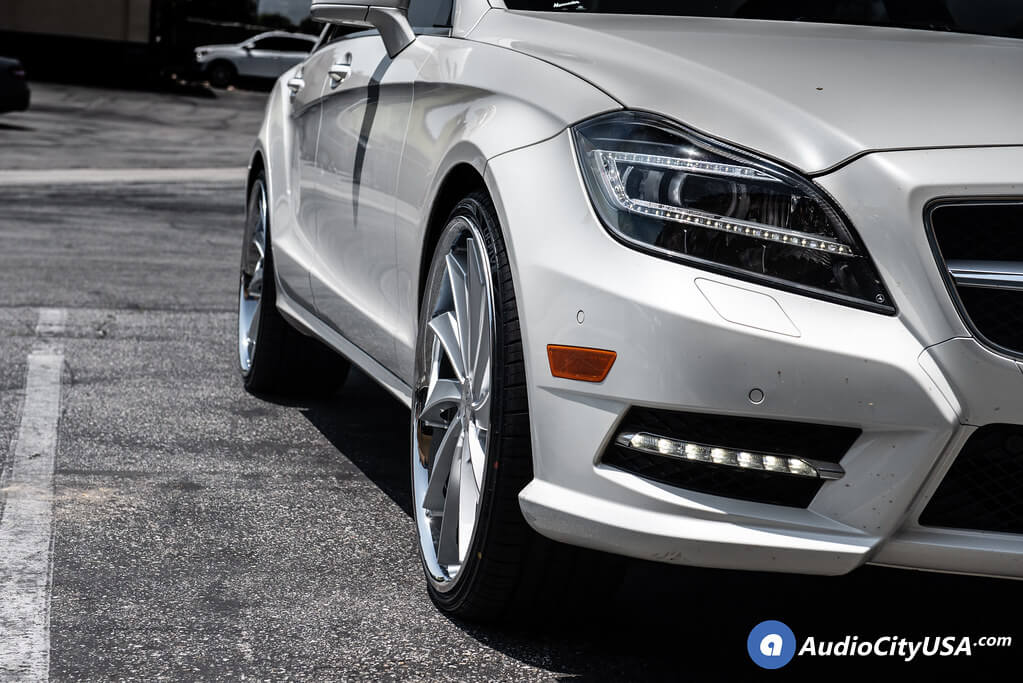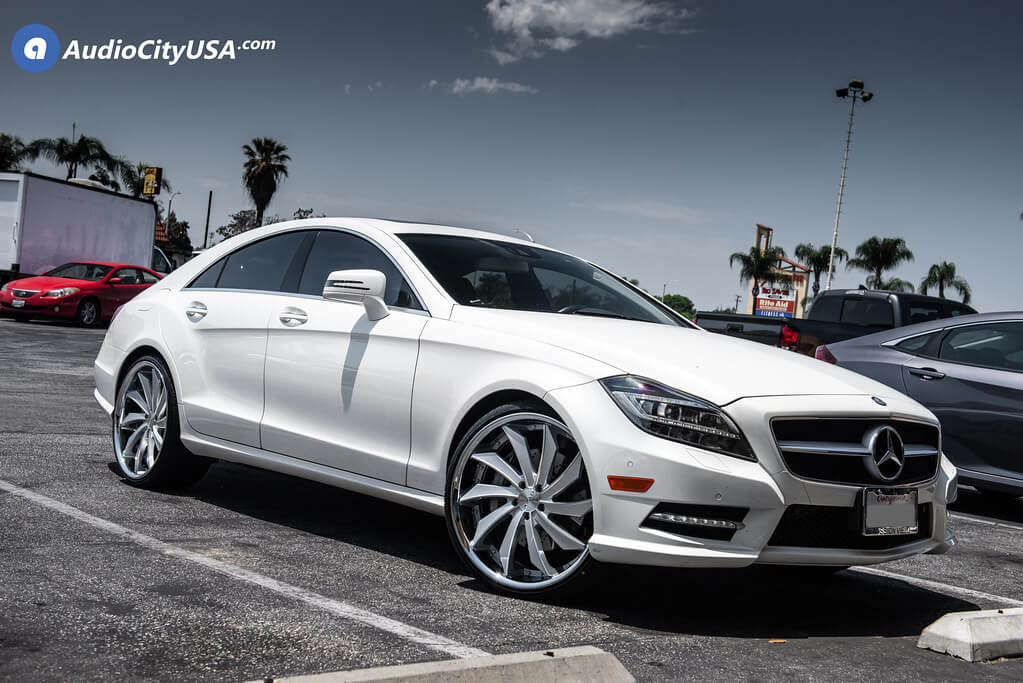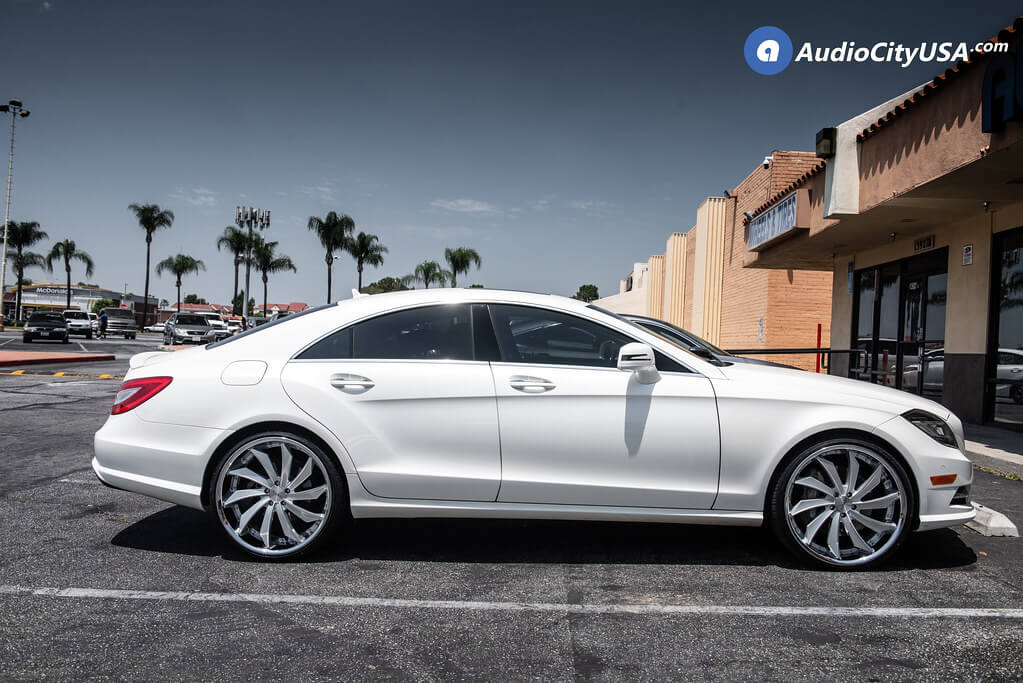 ---
Azad Wheels are a brand of custom rims that is known to be both extremely durable as well as unique in design. Azad Wheels and Azad Rims range in sizes from 19″ to 24″. Azad Wheels also come in a variety of fitments and colors to suit any style. Colors range from Black, Black Machined, Silver Machine, and Bronze.
---
Here at AudioCityUSA Wheels, we know how important it is for you to find the perfect fit to complete the look of your car, truck, or SUV. AudioCityUSA Wheels has been in business since 1989 and our goal has always been to provide our customers with high-quality products and excellent customer service with unbeatable prices and fast shipping. We pride ourselves in carrying the largest selection of wheel and rim brands, sizes, and finishes available on the market for any vehicle and we have been a distributor for major brands such as Lexani, Asanti, Giovanna, Savini, AC Forged, Rohana, Vossen, Iroc, Niche, Dub, Fuel, and more, for many years. Our dedicated team of experts have years of extensive knowledge and will be happy to answer any questions you may have about our wheels and tires.

So whether you are looking for staggered wheels, off-road wheels, or custom wheels, you can be sure that you will find exactly what you want for your car, truck, or SUV.
---
Audio City USA
If you have any questions,
Call our specialist at (888) 814-1158

Business Hours (PST)
– MON-FRI: 7:00am – 6:00pm
– SAT: 7:00am – 5:00pm
– SUN: 10:00am – 3:00pm

---
Local Installation Available!
13133 Telegraph Rd, Santa Fe Springs, CA 90670
Los Angeles
Santa Fe Springs
Whittier
La Habra
Torrance
Long Beach
Anaheim
Fullerton
Orange
Pasadena
Glendale
La Puente
Baldwin Park
El Monte
Covina
West Covina
Pomona
Rowland Heights
Hacienda Heights
Chino
Ontario
---
No Credit Needed – Wheel Financing
APPLY NOW!
---