Ever wanted a glow up for your car? One day you might realize that you may need to change your wheels and rims because they are starting to get old and worn out. What better way to give your vehicle an upgrade, with awesome wheels and high performance, right?
One of our customers wanted a Malibu deep dish wheel to go with a 2017 Chevrolet Malibu, and here we went with the Velocity Wheels VW11 with Chrome Rims
We have Velocity Wheels to give you high quality made products giving a slick, new look for your ride. The Velocity Wheels VW11 has an alloy rim with a chrome color and finish, giving that shine to your wheels and a subtle upgrade to your vehicle's look! Having top quality materials used for your wheels and letting your car's full potential out, what more could you ask for?.
The Lexani Tires LX-Twenty gives a high performance, specifically for those who are looking for handling, durability and stability for all seasons, wet or dry lands. The pattern doesn't only look good, but it has its purpose of draining water aways from the crevices of each tire and grips well on dry land. The interior of the tire is made from high quality materials, therefore it makes it wear less and makes it more durable for a longer time.
This truly is a wonderful pair of wheels and tires. You can never go wrong or look bad with these parts on your vehicle. They both deliver that best performance using top quality materials specially made for your car to endure any terrain, any season, all year long. Velocity Wheels and Rims, and Lexani Tires are both trusted in the community, giving you a major upgrade with your vehicle to make it more durable, stable, and safe on the road. They also give you the best of both worlds, design and purpose. Not only does it look good, but they put out your car's abilities to the test and improve it, whether you're looking for speed or durability, both parts give them all.
Amazing, isn't it? Both parts are versatile, durable, and made with good quality, and enhances your vehicle's performance. Surely that's something we can say no to.
Now, let's check these photos out to see what it looks like for our customer's 2017 Chevrolet Malibu!

---
Specifications(shown in the photos below):
• Vehicle – 2017 Chevy Malibu
• Wheels – 22×8″ Velocity Wheels VW11 Chrome Rims
• Tires – 245-30-22 Lexani Tires LX-Twenty
---
We provide NO CREDIT NEEDED Financing and Leasing Service!
---
Velocity Wheel For Performance And Style
Beautiful, isn't it? It gives that classy and cool new look. The chrome wheels went perfectly well with the car's body and those tires have given the car a proper finish to give this 2017 Chevrolet Malibu a sophisticated style.
Feel free to give us a call for any inquiry or detailed information
(626) 814-1158
If you're considering to customize your vehicle,
We recommend checking our wheel specialist suggestion.
Velocity Wheels are considered and recognized as one of the leaders in the manufacturing and distribution of high-performance aftermarket aluminum wheels for cars, trucks, and SUVs. With more than 10 years of experience, Velocity Wheels remain as a dominant force in the big market of custom made wheels for cars and heavier vehicles. Velocity Wheels and Velocity Rims are all high quality products that are available in a wide range of styles and designs, sizes, and colors that will fit any kind of luxury and enhance its performance in vehicle or sport truck application. Velocity wheels and Velocity rims are offered in sizes of the following:
20 inches
22 inches
24 inches
26 inches, and
28 inches
Of course, chrome isn't the only option when it comes to colors. Velocity Wheels provided different colors for us as well, it can vary from Chrome, Black, and even Black Machined. With Velocity wheels, rest assured that you will get the best engineered and the highest quality of wheels and rims for your vehicle's performance, safety, durability and versatility. Velocity Wheels provide you with wheels and rims that make you enjoy your vehicle to its fullest extent, given that all are made and crafted with top quality materials.
There is absolutely no doubt that with any type of rim you choose from them, surely they will always show your car's full potential on the road. Just like our customer here, you can also choose your own design, color and style according to your vehicle from Velocity Wheels.
See photos below for Velocity Wheels' variations: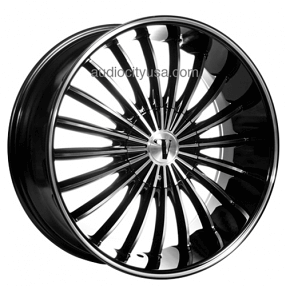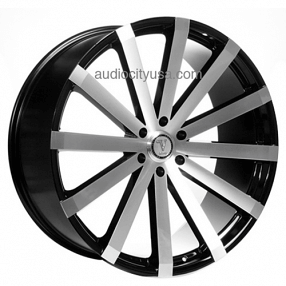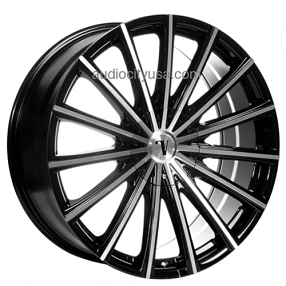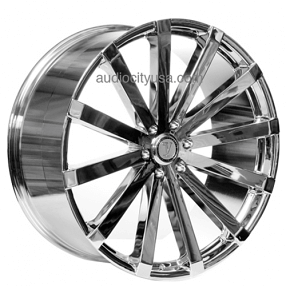 ---
Here at Audio City USA Wheels, we know how important it is for you to find the perfect fit to complete the look of your car, truck, or SUV. Audio City USA Wheels has been in business since 1989 and our goal has always been to provide our customers with high quality products and excellent customer service with unbeatable prices, top quality products and fast shipping. We pride ourselves in carrying the largest selection of wheel and rim brands, sizes, and finishes available on the market for any vehicle and we have been a distributor for major brands such as Lexani, Asanti, Giovanna, Savini, AC Forged, Rohana, Vossen, Iroc, Niche, Dub, Fuel, and more, for many years. Our dedicated team of experts have years of extensive knowledge and experience. We will always accommodate and attend to any questions that you may have about our wheels and tires. We do our best to find the perfect wheel, tire, rim, and finishing for your vehicle to satisfy our customer's needs. Our doors are always open to all enthusiasts and vehicle owners.
So whether you are looking for staggered wheels, off-road wheels, or custom wheels, you can be sure that you will find exactly what you want for your car, truck, or SUV.

---
Local Installation Available! 13927 Amar Rd. La Puente, CA 91746
La Puente
Baldwin park
El Monte
Covina
West Covina
Pomona
Rowland Heights
Hacienda Heights
Chino
Ontario
LA County Area
---
AudioCityUSA
If you have any of question, Call our special list at (626)814-1158
(Pacific Time / 9am-7pm Mon to Sat , 10am-5pm Sun)
13927 Amar Rd. La Puente, CA 91746
---
We provide NO CREDIT NEEDED Financing and Leasing Service!
Frequently Asked Questions
Will 22 inch rims fit on a Chevy Malibu?
Yes, they will. Without a doubt. The Chevrolet Malibu will easily accept 22-inch rims right from its assembly line. These wheels have what it takes to go off-roading as well. The Malibu is one of several mainstream Chevrolet models which have the capacity to drive on a set of 22-inch rims. There is no need for any further adjustments and you will not have to pay any visit to the scrubbers or fitters as well. These are well worth investing.
Are 22 inch rims bad for your car?
No, they are not. They can have a disastrous effect only when you try and forcibly mount them on a car which requires smaller tires. Under these circumstances, these wheels will have a disastrous effect on the way you drive, on how you manoeuvre, on braking and may even cause on-road incidents including pile-ups and accidents. It is imperative to remember to fit 22-inch rims only on models which are designed to accept them. Otherwise, give them a wide berth!
Can you off road with 22 inch rims?
It is technically possible to go off-roading with 22-inch rims. However, experts recommend that you do not use them in such a cavalier fashion. 22-inch rims are not too good for off-roading or handling tricky roads, as a matter of fact. They are most at home on city and suburban roads. Still, if you choose to go off-roading with these wheels, always ensure that you have at least 2 spares- these might just give ion to the extra pressure. Also, try and use high-quality tires at all times. Despite all this, it remains a bad idea!