For this 2019 Mercedes Benz GT53 AMG
our customer wanted Mercedes Wheel
with a really deep concave profile
and went with
 Lexani Forged Wheels LF-Sport LZ-101
Custom Finish Forged Rims
in a Brush Silver Face, and a Black Lip Finish.
Wheel and tire set up
22×9.5 & 22×11 wrapped with
265-35-22 & 295-30-22 Pirelli Tires
with no rubbing issues.
Feel free to give us a call for any detailed information.
(626) 814-1158
If you're considering to customize your vehicle,
Check out our wheel specialist suggestion.
---
Customize with Lexani Forged Wheels
• Vehicle – 2019 Mercedes Benz GT53 AMG
• Wheels – Front: 22×9.5 / Rear: 22×11″Lexani Forged Wheels LF-Sport LZ-101
Custom Finish Forged Rims
• Tires – Front: 265-35-22 /  Rear: 295-30-22 Pirelli Tires
---
We provide NO CREDIT NEEDED Financing and Leasing Service!
Lexani Forged Wheels For Performance And Style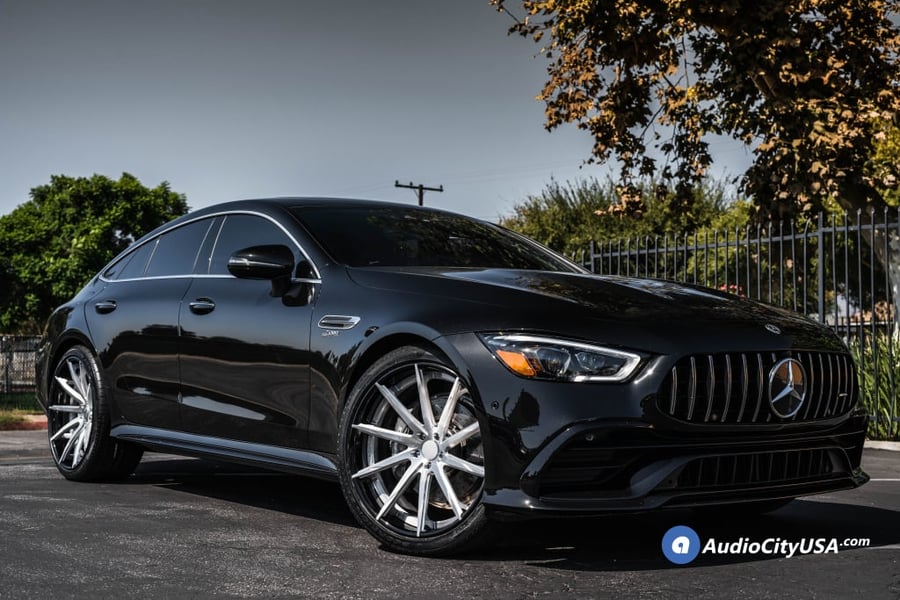 Lexani Wheels is known around the world as the leader in custom luxury wheels. Exclusive design solutions and quality of Lexani wheels made the brand highly popular all over the world. Lexani rims creates the lightweight monoblock and 3 piece forged rims as well. No other manufacturer can compete with Lexani rims. Check out 2018 new designs.
It's About Looking Unique
You've got a style that's unique, and you want your ride to reflect that, too. The problem is, there are only so many colors you can paint your vehicle; and a paint job by itself just isn't enough. You want another way to make your ride distinct from the rest, and one of the best ways to do that is with a set of great new rims. Lexani Wheels from Audio City USA and audiocityusa.com are just the look your ride needs.
It Doesn't Get More Unique
When you own a luxury vehicle you want it to look and feel luxurious inside and out; from the leather interior to your exterior trim. Lexani rims are high end, unbeatable quality rims with completely unique styling. Lexani wheels are one of the top brands in custom luxury wheels, and they've earned that reputation by offering a wide selection of colors, styles and finishes. If size is your thing, some Lexani rims are available from 20 inches to as large as 30 inches. If you want to go for eye-catching colors, Lexani has those, too. Lime green, white & yellow, black & orange, and even purple, if unique colors are what you're after, Lexani wheels are sure to please. Lexani also makes lightweight wheels and three-piece rims while offering some truly unusual and jaw-dropping spoke styles. You'll have that one of a kind look you want and the extravagant presence both you and your ride deserve.
Custom Colors and Finishes
When you buy a car, most often it comes with manufacture rims exactly like the other cars on the lot and similar to other makes and models on the road. Lexani custom wheels and rims will not only stand out amongst the rest, but will give your vehicle appeal that other similar makes and models don't have. Lexani offers custom color options ranging from the deepest of blues to the brightest red that can effectively match or compliment the exterior of your car or truck; or even its interior design. If matching your rims to the color of your vehicle isn't quite the aesthetic you're looking for, you can choose from a selection of finishes such as chrome, silver, white, carbon fiber, black and brushed to complete the sleek look of your ride. No matter your color preference, Lexani wheels and rims will give your ride the appeal you are looking for.
---
Here at AudioCityUSA Wheels, we know how important it is for you to find the perfect fit to complete the look of your car, truck, or SUV. AudioCityUSA Wheels has been in business since 1989 and our goal has always been to provide our customers with high quality products and excellent customer service with unbeatable prices and fast shipping. We pride ourselves in carryingthe largest selection of wheel and rim brands, sizes, and finishes available on the market for any vehicle and we have been a distributor for major brands such as Lexani, Asanti, Giovanna, Savini, AC Forged, Rohana, Vossen, Iroc, Niche, Dub, Fuel, and more, for many years. Our dedicated team of experts have years of extensive knowledge and will be happy to answer any questions you may have about our wheels and tires.
So whether you are looking for staggered wheels, off-road wheels, or custom wheels, you can be sure that you will find exactly what you want for your car, truck, or SUV.
---
Local Installation Available!   13927 Amar Rd. La Puente, CA 91746
La Puente
Baldwin park
El Monte
Covina
West Covina
Pomona
Rowland Heights
Hacienda Heights
Chino
Ontario
LA County Area
---
AudioCityUSA
If you have any of questions, Call our special list at (626)814-1158
(Pacific Time / 9am-7pm Mon to Sat , 10am-5pm  Sun)
13927 Amar Rd. La Puente, CA 91746
---
We provide NO CREDIT NEEDED Financing and Leasing Service!