OEM or original equipment manufacturer wheels have been making wheels of different sizes and styles, for different kinds of vehicles. Now let's focus on the Chevy 1500 SS Truck Wheels Silver OEM Replica Rims.
For this Slammed 2011 Chevrolet Silverado our customer wanted a clean Silverado wheel with an OEM look, and went with Chevy 1500 SS Truck Wheels Silver OEM Replica Rims
Wheel and tire set up is 22×10 +30et wrapped with 265-35-22 Lexani LX-Thirty Tires lowered 6″ Front and 10″ Rear (tubbed).
This beautiful set up is going to make heads turn. What more can you ask for? Stylish, affordable and durable wheels fit for your vehicle.
OEM alloy wheels are usually forged from cast aluminum, and cast aluminum is also added with other metals to enhance the wheel's strength. Many wheel manufacturers in the aftermarket are generally unwilling to use the money spent on because the turnover of after-sales wheels is high, it is possible to manufacture wheels that are as strong and durable as OEM Replica Wheels. By providing customized technology, OEM duplicate wheels take customized rims and wheels to a new level. These wheels are carefully designed to bring a comfortable driving experience to this truck.
Lexani LX-Thirty Tires
These Lexani tires can bring the best performance to your vehicle. Lexani LX-Thirty tires are very durable in any weather during the journey. On dry or wet land, these wheels can cope with ease. It brings advantages to your car not only in appearance but also in performance. You can definitely drive on any terrain in any weather or season.
Let's check our customer's new set up, shall we?
Feel free to give us a call for any detailed information.
(626) 814-1158
If you're considering to customize your vehicle,
Check out our wheel special list suggestion.
---
Specifications(as shown in the photos below):
• Vehicle – Slammed 2011 Chevrolet Silverado
• Wheels – 22×10 Chevy 1500 SS Truck Wheels with Silver OEM Replica Rims
• Tires – 265-35-22 Lexani LX-Thirty Tires
• Lift Kit – Front : 6″ / Rear : 10″ Tubbed Drop Kit
---
We provide NO CREDIT NEEDED Financing and Leasing Service!
---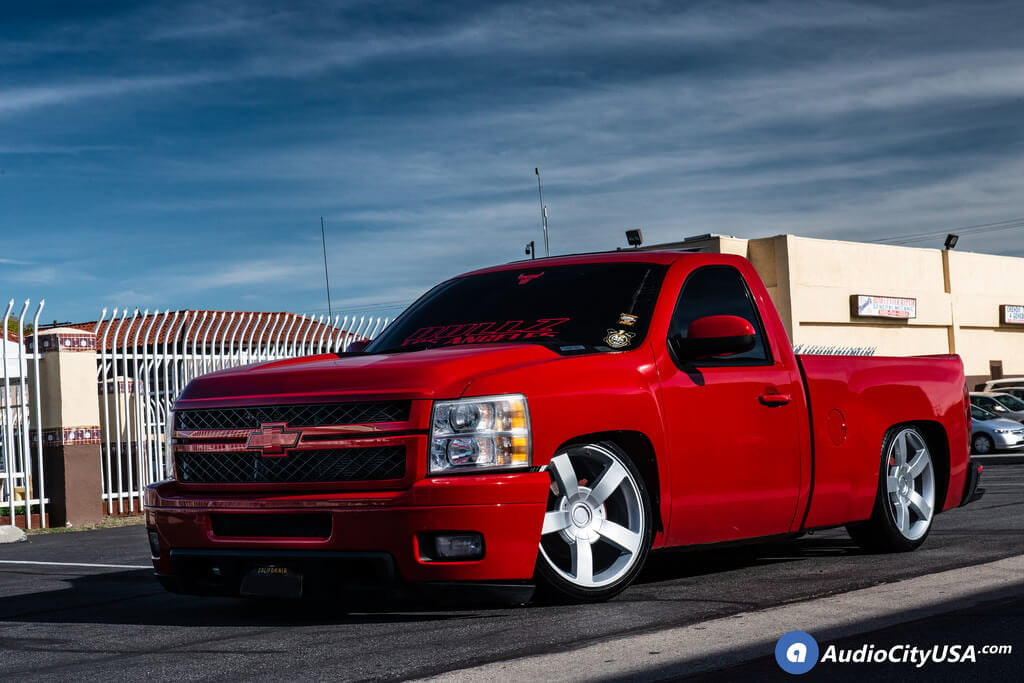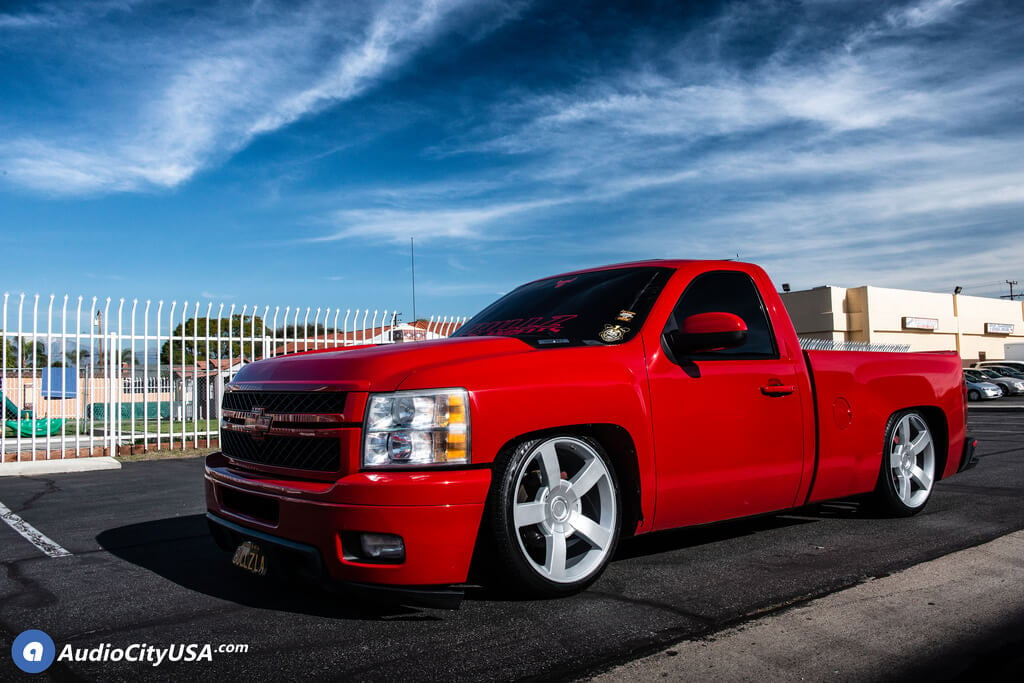 This setup is perfect for this 2011 Chevrolet Silverado. The contrast with these Silver OEM Replica Wheels go so well with the red paint job on his tuck. A beautiful sight, indeed! Not only by its appearance, but functionality is way better, ih performance, durable, and stable with a classic look that can never go wrong. OEM Replica wheels consider the performance and handling of your car, and provide a variety of OEM wheels suitable for your car without affecting your safety and/or performance. They provide you with high-quality finished products, leaving a deep impression. Driving smoothly and connecting it to your vehicle is definitely an enjoyable experience. 
This 2011 Chevrolet Silverado with Chevy 1500 SS truck wheels, silver OEM Replica rims, all together with the Lexani LX-Thirty tires truly gives a classic look, at the same time has a high performance in terms of durability, speed and driving quality.
OEM Replica wheel manufacturers will consider the performance and handling of your car, and provide a variety of OEM wheels that are suitable for your car without sacrificing your safety or performance. OEM replicates the assembly and compatibility of wheels to provide your vehicle with better driving performance without downgrading the quality
At AudioCityUSA, we specialize in distributing the finest wheels for any ride. It is our goal to provide our customers with top of the line wheels for their off-roading vehicles. We proudly offer great brands such as OEM Replica Wheels as part of our inventory and we make it easy for you to get them on your vehicle as soon as possible with amazing prices and fast delivery.
Audio City USA is leading the industry in OEM Replica Wheels and Factory Reproductions wheels for BMW, Cadillac, Chevrolet, Corvette, Chrysler, Dodge, Ford, Jeep, and many others. Our OEM replica product lineup, from companies like Factory Reproductions, include 18″ to 26″ diameter wheels for passenger cars, trucks, and sport utility vehicles. OEM replica wheels and Factory Reproduction wheels are offered in many different finishes to suit your custom needs. Audio city usa offers the best prices in OEM replica rims and are guaranteed to be a perfect fit for your vehicle.
Suspension Package – Lowering/Lifting
Audio City USA offers complete suspension, lifting and Lowering, rim, and tire packages. We can do same day installation and offer easy no credit check financing.
Here at Audio City USA Wheels, we know how important it is for you to find the perfect fit to complete the look of your car, truck, or SUV. Audio City USA Wheels has been in business since 1989 and our goal has always been to provide our customers with high quality products and excellent customer service with unbeatable prices and fast shipping. We pride ourselves in carrying the largest selection of wheel and rim brands, sizes, and finishes available on the market for any vehicle and we have been a distributor for major brands such as Lexani, Asanti, Giovanna, Savini, AC Forged, Rohana, Vossen, Iroc, Niche, Dub, Fuel, and more, for many years. We have our dedicated team of experts that have years of extensive knowledge and will be happy to answer any questions you may have about our wheels and tires.
So whether you are looking for staggered wheels, off-road wheels, or custom wheels, you can be sure that you will find exactly what you want for your car, truck, or SUV. 
---
Local Installation Available!   13927 Amar Rd. La Puente, CA 91746
La Puente
Baldwin park
El Monte
Covina
West Covina
Pomona
Rowland Heights
Hacienda Heights
Chino
Ontario
LA County Area
---
Audio City USA
If you have any of question, Call our specialist at (626)814-1158
(Pacific Time / 9am-7pm Mon to Sat , 10am-5pm  Sun)
13927 Amar Rd. La Puente, CA 91746
---