Fuel Wheels give the best performance to your vehicle on any terrain, made with high quality materials, suited to give you a more comfortable and a steadier ride on your off road trips. All heads will turn on this awesome truck, truck owners and enthusiasts will want one of these set ups too! Fuel Wheels will always have something new to offer to make your vehicle stand out. For this Lifted 2016 Ford F-350 Dually, one of our customers wanted aftermarket dually wheels with a deep concave profile. After looking through available wheel and tire options we settled on a set of 24″ Fuel Wheels D538 Maverick with Black Milled Rims.
Wheel and tire set up is 24×8.25″ wrapped with 35×12.50×24 Radar Tires R/T leveled with a 2.5″ Leveling kit.
The wheels extend out of the fenders and create an ultra aggressive setup that intimidates and looks nothing like the stock setup. Fuel Wheels offer the highest quality products with proper design and function, meant to be used off-road.
What more can you ask for? Let's check this awesome set up!

---
For any detailed information feel free to give us a call.

(888) 814-1158

www.AudioCityUSA.com
---
Specifications(as shown in the photos below):
ㆍ Vehicle – 2016 Ford F-350 Dually

ㆍ Wheels – FrontㆍRear Outer/Inner: 24×8.25″ Fuel Off-Road Wheels D538 Maverick Black Milled

ㆍ Tires – 35×12.50×24 Radar Tires R/T
---
No Credit Needed – Wheel Financing
APPLY NOW!
---
FUEL WHEELS FOR PERFORMANCE AND STYLE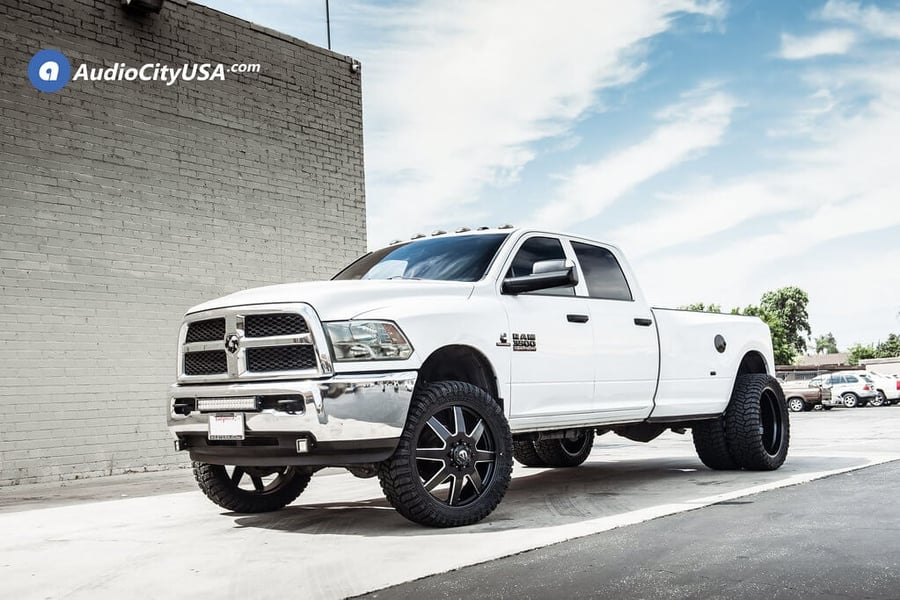 For the Dually truck with an extra wheelset in the rear, why not invest in the best range of premium rims for a purely custom enhancement. Not only do we stock the latest styles in Dually Wheels but ensure that listed brands include the performance features every truck owner needs. With our Dually Wheels, you can rest assured that your truck is provided with the highest level of heavy-duty towing and loan capabilities. The Dually Wheels are ideal for maintaining the stability of attached trailers even in the windiest conditions. Whether you need to haul a regular or a 5-wheel trailer, your trusted Dually Wheels can deliver exceptional results even for the toughest loads. When you need a heavy-duty set of wheels and load-bearing support, our range of Dually Wheels from the top brands can deliver impeccable results. Designed to last with superior styles to match, you can speak to us at Audio City USA for the most impressive results.
Over the years, Fuel Wheels has been attracting off-road enthusiasts with their designs and advancements. They provide a wide range of durable wheels for your vehicle. They will always have your back when you're in need of custom made off road wheels, and they give great options for people who are looking for wheels that can handle tough, rocky terrain for all kinds of weather. The Fuel Wheels D538 Maverick gives a more aggressive and powerful look for your vehicle, combined with these black milled rims and awesome spokes will give you a steadier, more comfortable long distance ride for hours and hours no matter what land you're on.
Specializing in off road wheels and rims, Fuel Wheels always give the best performance to your vehicle on any terrain, made with high quality materials, suited to give you a more comfortable and a steadier ride on your off road trips.
At AudioCityUSA we are leaders in the provision and the sale of high-performance Dually Wheels. Available in a range of the best brands and incredible styles, you can find the right Dually Wheels for your needs at prices that you will not find elsewhere. As leaders in aftermarket and custom wheels, we believe in providing our customers with choice. Our dedicated team searches far and wide to deliver the latest styles in wheels for every SUV and truck owner. If you need to learn which product is best for your vehicle or you are simply interested in Dually Wheels from leading manufacturers, then browse through our exclusive selection online. Our prices are competitive and our wheels of the highest quality.

---
---
Here at Audio City USA Wheels, we know how important it is for you to find the perfect fit to complete the look of your car, truck, or SUV. Audio City USA Wheels has been in business since 1989 and our goal has always been to provide our customers with high quality products and excellent customer service with unbeatable prices and fast shipping. We pride ourselves in carrying the largest selection of wheel and rim brands, sizes, and finishes available on the market for any vehicle and we have been a distributor for major brands such as Lexani, Asanti, Giovanna, Savini, AC Forged, Rohana, Vossen, Iroc, Niche, Dub, Fuel, and more, for many years. Audio City USA has a dedicated team of experts that have years of extensive knowledge and will be happy to answer any questions you may have about our wheels and tires.
So whether you are looking for staggered wheels, off-road wheels, or custom wheels, you can be sure that you will find exactly what you want for your car, truck, or SUV.

---
Audio City USA
If you have any questions,
Call our specialist at (888) 814-1158

Business Hours (PST)
– MON-FRI: 7:00am – 6:00pm
– SAT: 7:00am – 5:00pm
– SUN: 10:00am – 3:00pm

---
Local Installation Available!
13133 Telegraph Rd, Santa Fe Springs, CA 90670
Los Angeles
Santa Fe Springs
Whittier
La Habra
Torrance
Long Beach
Anaheim
Fullerton
Orange
Pasadena
Glendale
La Puente
Baldwin Park
El Monte
Covina
West Covina
Pomona
Rowland Heights
Hacienda Heights
Chino
Ontario
---
No Credit Needed – Wheel Financing
APPLY NOW!
---