Our customer from out of state
ordered some New Billet wheels
for his tubbed Chevy C10
and went with
24×9 & 24×12 Intro Wheels Twisted Rally
*True Directional* in a brush silver face,
Polish lip & windows rims
Wheel is a 2 piece welded
billet aluminum wheel made in California.
Feel free to give us a call for any detailed information.
(626) 814-1158
If you're considering to customize your vehicle,
Check out our wheel specialist suggestion.
---
We provide NO CREDIT NEEDED Financing and Leasing Service!
---
Intro wheels For Performance And Style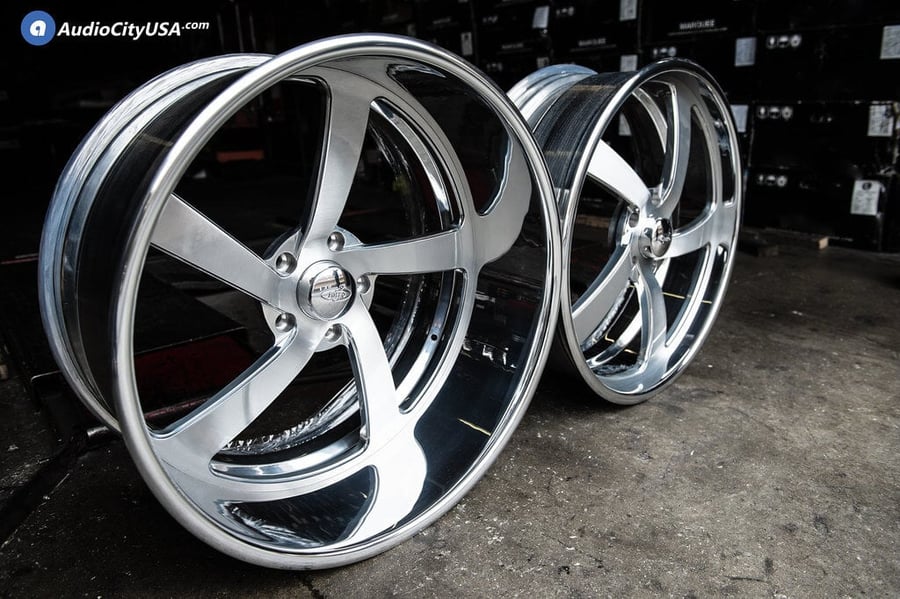 Here at AudioCityUSA Wheels, we know how important it is for you to find the perfect fit to complete the look of your car, truck, or SUV. AudioCityUSA Wheels has been in business since 1989 and our goal has always been to provide our customers with high quality products and excellent customer service with unbeatable prices and fast shipping. We pride ourselves in carryingthe largest selection of wheel and rim brands, sizes, and finishes available on the market for any vehicle and we have been a distributor for major brands such as Lexani, Asanti, Giovanna, Savini, AC Forged, Rohana, Vossen, Iroc, Niche, Dub, Fuel, and more, for many years. Our dedicated team of experts have years of extensive knowledge and will be happy to answer any questions you may have about our wheels and tires.
So whether you are looking for staggered wheels, off-road wheels, or custom wheels, you can be sure that you will find exactly what you want for your car, truck, or SUV.
---
Local Installation Available! 13927 Amar Rd. La Puente, CA 91746
La Puente
Baldwin park
El Monte
Covina
West Covina
Pomona
Rowland Heights
Hacienda Heights
Chino
Ontario
LA County Area
---
AudioCityUSA
If you have any of question, Call our special list at (626)814-1158
(Pacific Time / 9am-7pm Mon to Sat , 10am-5pm Sun)
13927 Amar Rd. La Puente, CA 91746
---
We provide NO CREDIT NEEDED Financing and Leasing Service!
Frequently Asked Questions
Where are Intro Wheels made?
Intro Wheels are always made in the United States of America. These fantastic aftermarket products are fabricated in the company's production units in California. More specifically, they are made at plants located in Anaheim. There is no chance that Intro Wheels, and original models only, will be made in any other country. This is the reason why the company's full name is 'Intro Custom Wheels.' These are custom-made here in the USA. Whenever you purchase a set of these wheels, note the country of origin!
Are Intro Wheels billets?
Yes. In a word, that is the answer. All original Intro Wheels are always 100% billets! That is to say, these units are made of high-grade aluminum and all the regions of these wheels are polished to a high degree of shine. For example, the Intro Exposed 5 Series, which is one of the company's biggest-selling models, is made from a single block of aluminum, making it a billet wheel by nature. Intro Wheels are all billet wheels and start life from single pieces of metal, making them ideal for classic cars.
How much do Intro Wheels weigh?
Intro Wheels are some of the most reliable custom wheels available in the US. Their weight depends on the model which you are buying. Intro Wheels says that its 22-inch models, which are pretty large, weigh only around 37 to 38 pounds. There too, the weight depends on the rim size you are choosing, the lug nut pattern, and a lot of other aspects including finish. Going by this example, Intro Wheels are very durable and very lightweight, both ideal factors for custom markets.
What are billet wheels?
Billet wheels are a type of wheels which are manufactured from a single chunk of metal. The word 'billet' means 'to carve'. It is a dead giveaway of what the thing really is. Billet wheels are one of several types of wheels that are available for both the OE and aftermarket circles in the United States. If you are buying an aluminum billet wheel, for example, it will have been carved out and manufactured using a single solid block of metal, or aluminum in this case. Billet wheels are stronger and more robust than other wheel types.