For This 2009 Mercedes Benz S550
our customer wanted a Mercedes Wheel
with a deep dish design and went with
 XIX Wheels X23 Silver Machine with SS Lip Rims
Wheel and tire set up is
22×9 & 22×10.5 wrapped with
245-30-22 & 295-25-22 Lexani LX-nine Tires
with no rubbing issues.
(lk30io38u)
Feel free to give us a call for any detailed information.
(626) 814-1158
If you're considering to customize your vehicle,
Check out our wheel specialist suggestion.
---
• Vehicle – 2009 Mercedes Benz S550
• Wheels – Front : 22×9 / Rear : 22×10.5  XIX Wheels X23 Silver Machine with SS Lip Rims
• Tires – Front : 245-30-22 / Rear : 295-25-22 Lexani LX-nine Tires
---
We provide NO CREDIT NEEDED Financing and Leasing Service!
XIX Wheels For Performance And Style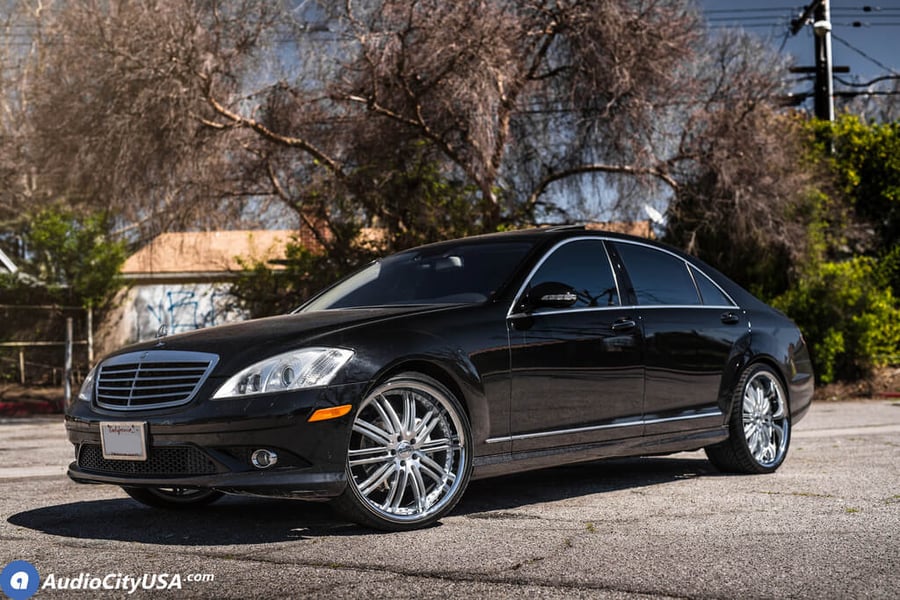 XIX Wheels is a high-quality staggered aluminum wheel line geared toward the luxury and high-end vehicle market. XIX Exotic Alloys is an internationally known wheel alloy company famous for manufacturing high end wheels since 1990. Due to the exceptional quality in engineering, XIX wheels have been able to soar miles above the competition creating some of the hottest wheels on the market. XIX rims are perfectly suited for BMWs, Audis, Mercedes, and many other vehicles. XIX wheels offer a great selection of designs and offer options such as concave, staggered, inner-cut and milled off barrel, and more. XIX wheels is dedicated in creating high quality products that are still affordable at reasonable prices.
---
Here at AudioCityUSA Wheels, we know how important it is for you to find the perfect fit to complete the look of your car, truck, or SUV. AudioCityUSA Wheels has been in business since 1989 and our goal has always been to provide our customers with high quality products and excellent customer service with unbeatable prices and fast shipping. We pride ourselves in carryingthe largest selection of wheel and rim brands, sizes, and finishes available on the market for any vehicle and we have been a distributor for major brands such as Lexani, Asanti, Giovanna, Savini, AC Forged, Rohana, Vossen, Iroc, Niche, Dub, Fuel, and more, for many years. Our dedicated team of experts have years of extensive knowledge and will be happy to answer any questions you may have about our wheels and tires.
So whether you are looking for staggered wheels or custom wheels, you can be sure that you will find exactly what you want for your car, truck, or SUV.
---
Local Installation Available!   13927 Amar Rd. La Puente, CA 91746
La Puente
Baldwin park
El Monte
Covina
West Covina
Pomona
Rowland Heights
Hacienda Heights
Chino
Ontario
LA County Area
---
AudioCityUSA
If you have any of question, Call our special list at (626)814-1158
(Pacific Time / 9am-7pm Mon to Sat , 10am-5pm  Sun)
13927 Amar Rd. La Puente, CA 91746
---