For this 2020 RAM 3500 Dually
our customer wanted off-road dually
wheels with an aggressive design. This also
meant that he needed to lift his RAM 3500.
We installed 4″ BDS Suspension Lift Kit so that
we can fit his ultimate choice:
22″ Cali Off-Road Wheels
9105 Brutal Satin Black Milled Dually.
The stance created with this setup is
unmistakably intimidating.

Would you take 2 parking spots to park this beast?

Wheels and tires set up are 22×8.25
wrapped with RBP Tires Repulsor M/T
37×13.50×22 lifted with 4″ BDS Suspension
Lift Kit without rubbing issues.
For any detailed information feel free to give us a call.

(888) 814-1158

www.AudioCityUSA.com
---
Customize with Cali Off-Road Wheels

• Vehicle – 2020 RAM 3500 Dually

• Wheels – 22×8.5″ Cali Off-Road Wheels 9150 Brutal Satin Black Milled Dually

• Tires – 37×13.50×22 RBP Tires Repulsor M/T

• Suspension – 4″ BDS Suspension Lift Kit
---
No Credit Needed – Wheel Financing
APPLY NOW!
---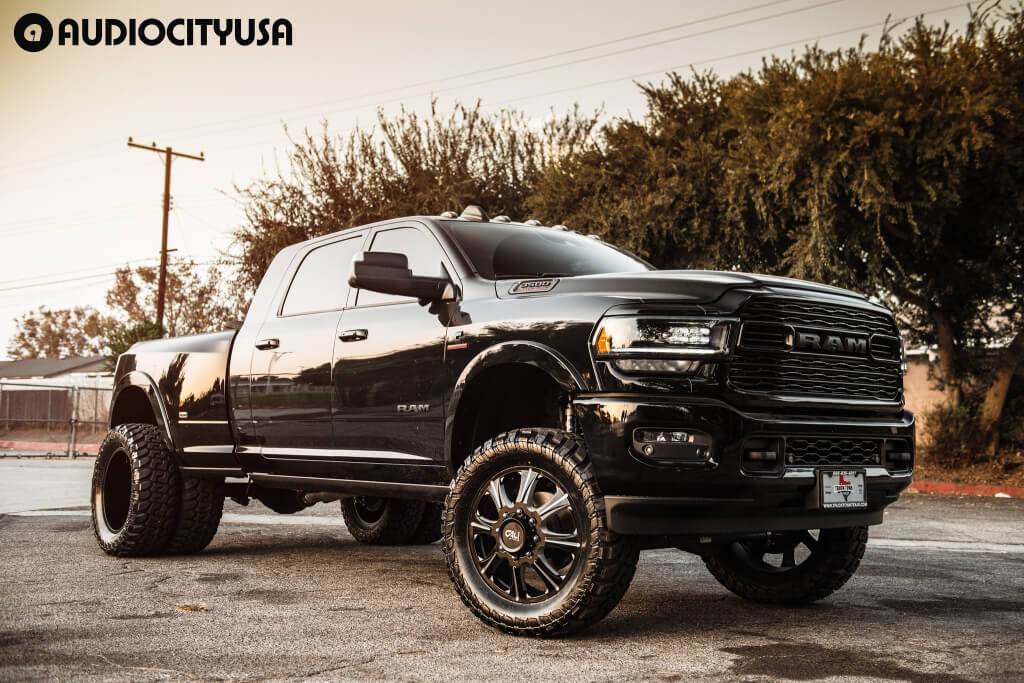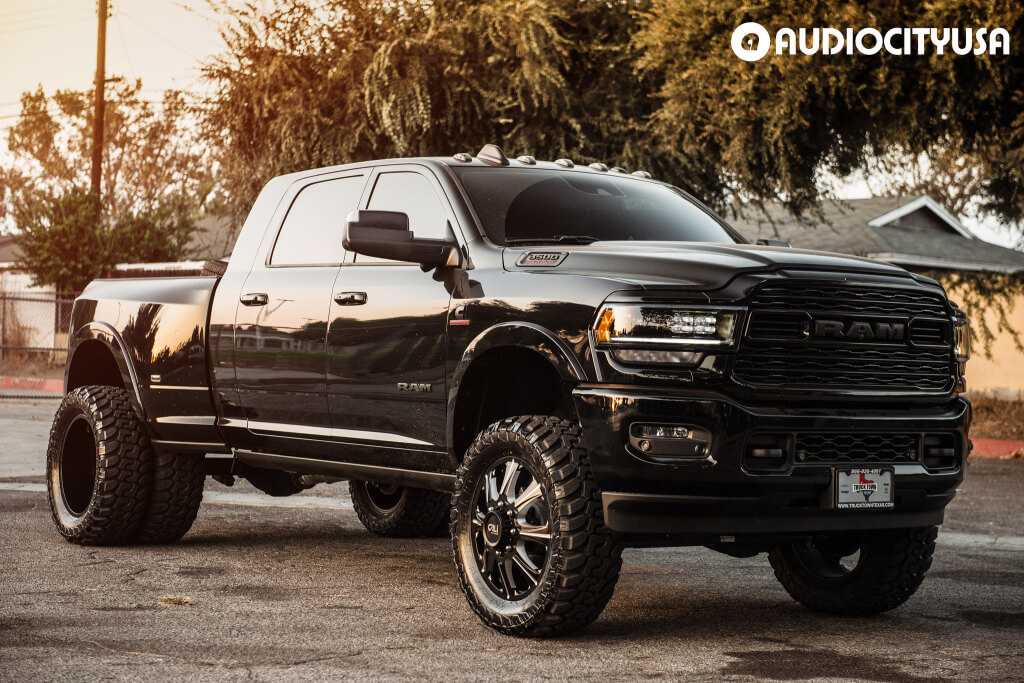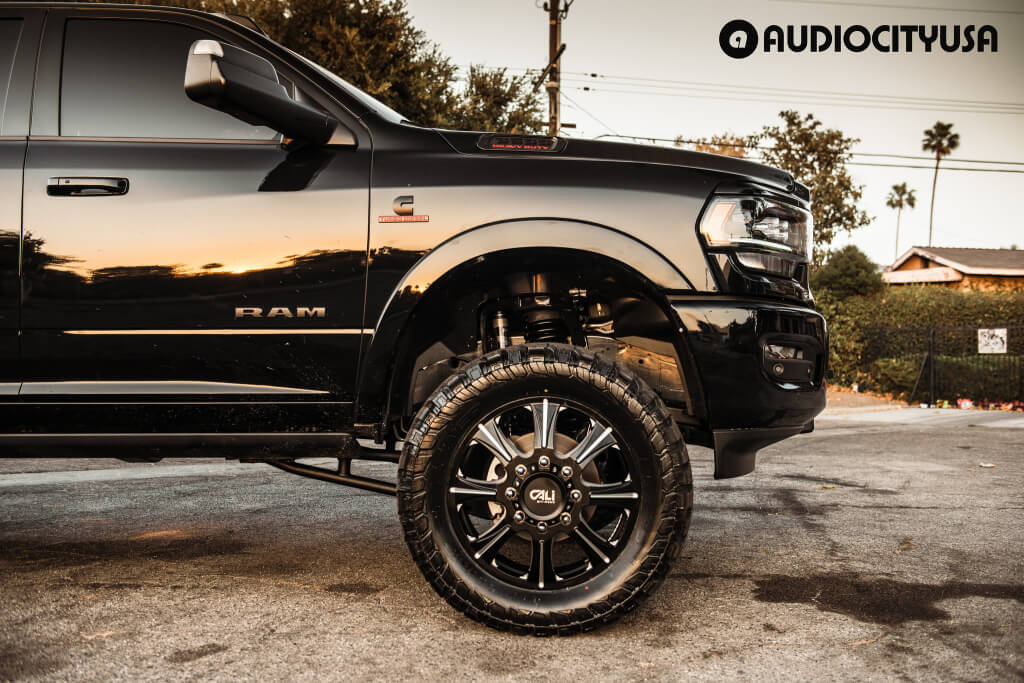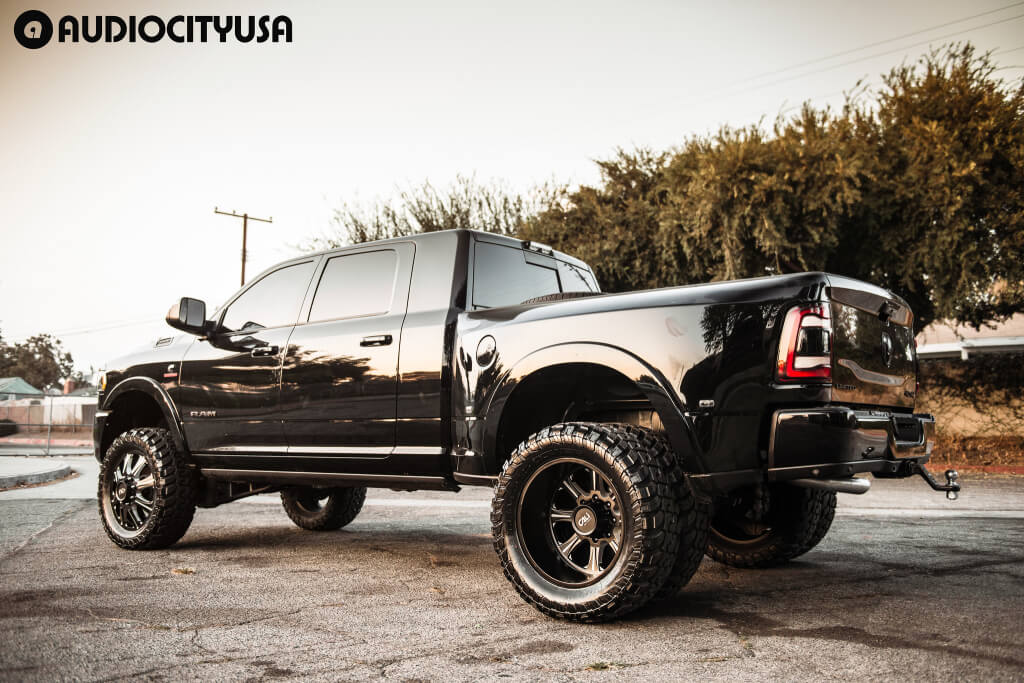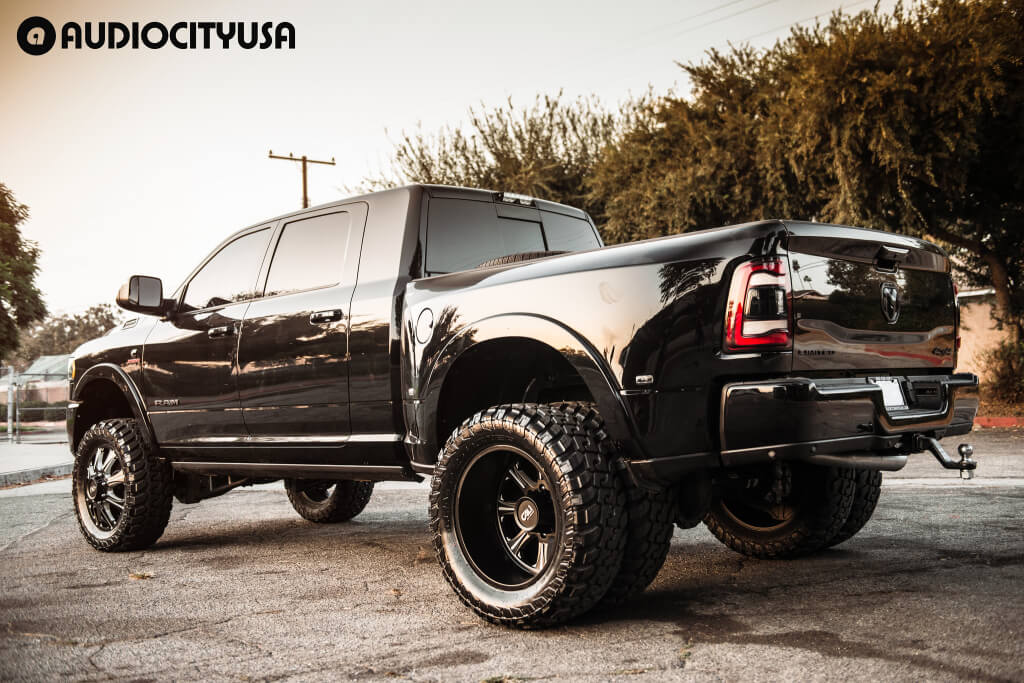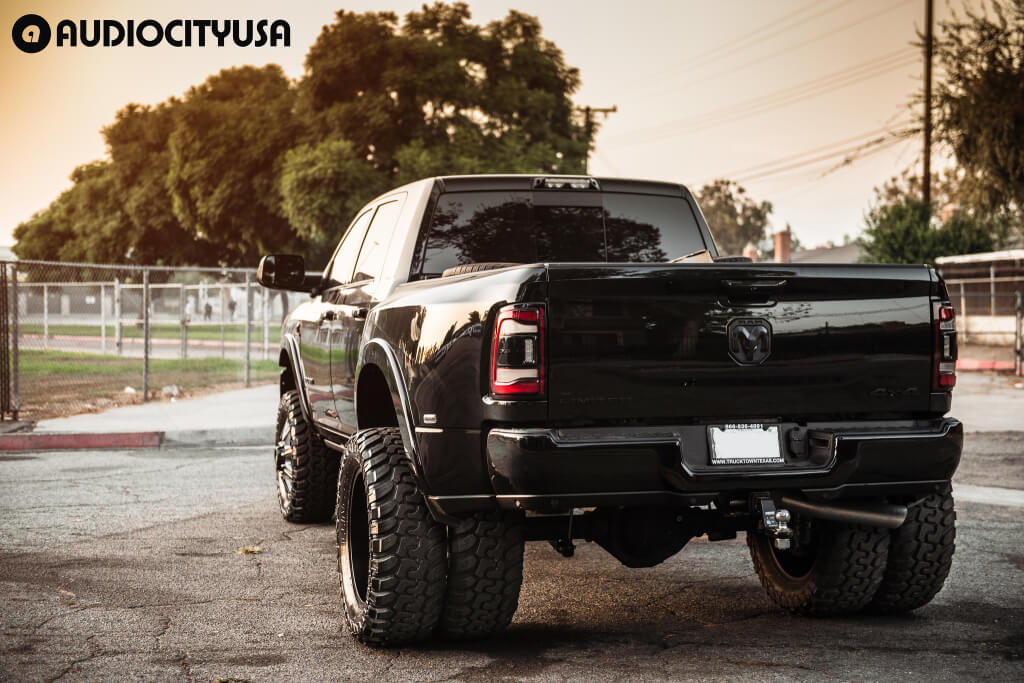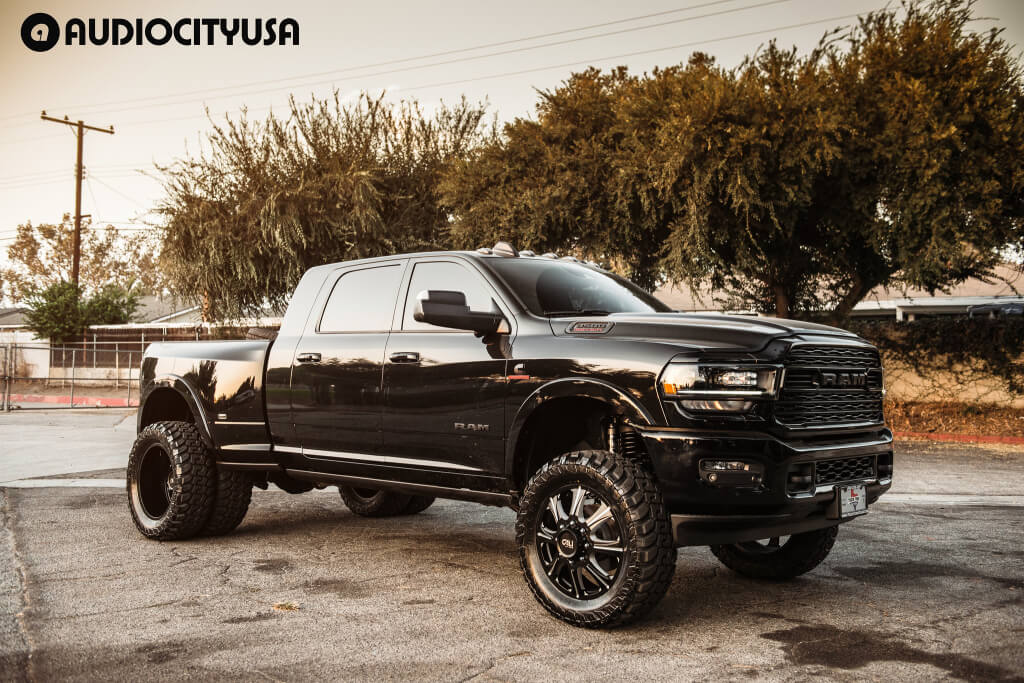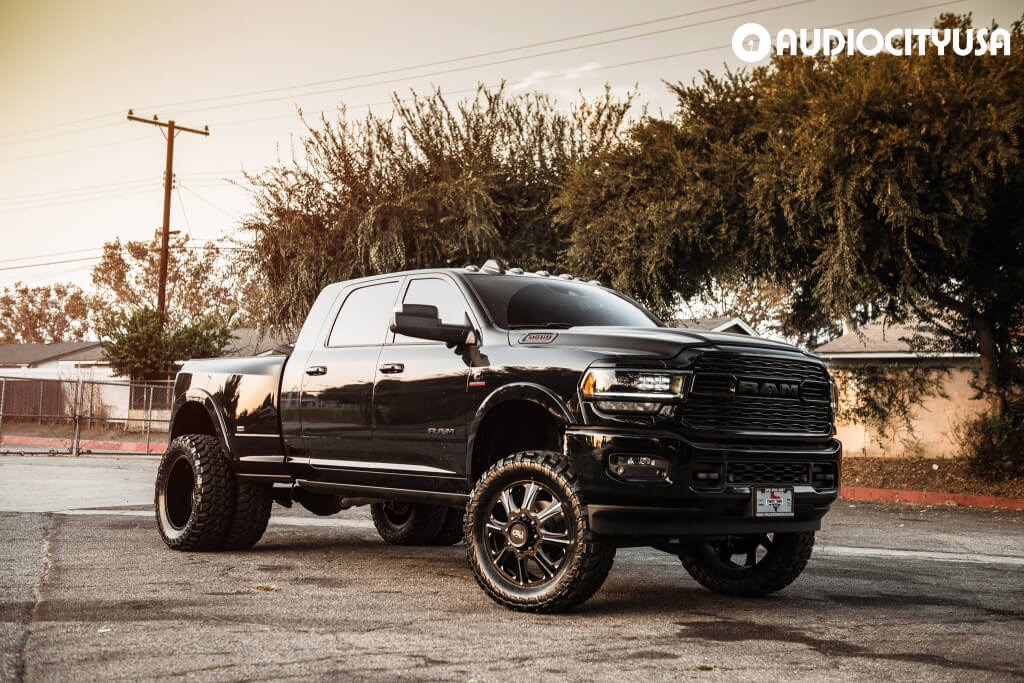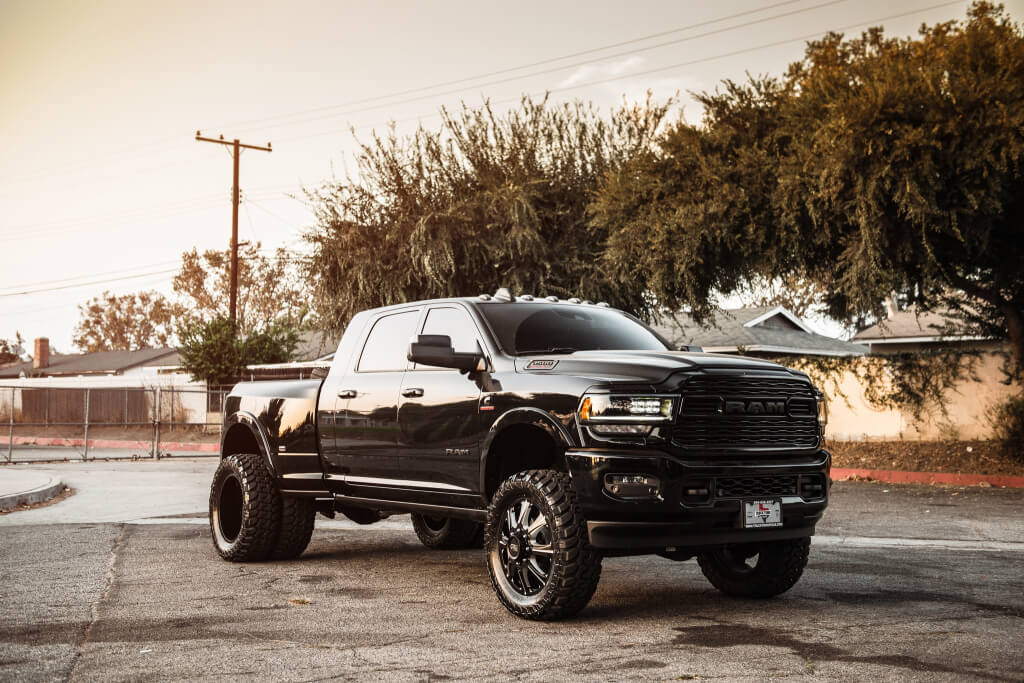 ---
CALI OFF-ROAD WHEELS, If traveling on rough grounds and dirt is your thing and you don't want your truck wheels to wear out soon, Cali off-road is the best choice for you. The Cali wheels are known for their incomparable durability and the looks that will surely turn some heads. The advanced and high-tech manufacturing of these wheels enables the drivers to seamlessly go through bumpy tracks without worrying about damage to the wheels. This is what makes Cali one of the best off-road wheel brands in the industry.

Why Choose AudioCityUSA for Cali Off-road Wheels?
AudioCityUSA provides a wide range of Cali wheels to suit your style and preference. Our brand has long been known for pushing boundaries and bringing our customers all the features and styles in one place. AudiCityUSA is your go-to brand if you want something classic and within a decent price range. Here, we offer a huge range of Cali wheels (160 rim styles) for you to choose from.

Exciting Colors and Designs
You wouldn't have to worry about the building style of your truck or SUV, as AudioCityUSA has got your back with vast options for diameter (Dually and Off-Road sizing of 20″, 22″, and 24″).
The beautiful and metallic finish of the tires, with four striking colors (black, chrome, gunmetal, and machined), provides a unique look to your automobile. We make sure that your vehicle stands out both on the road and off-road with its eye-popping metallic rims. The story doesn't end here, because the Cali off-road wheels provide the strength that is not found anywhere else. AudioCityUSA takes pride in the high quality and exceptional performance of the Cali off-road wheels it provides.

Best Quality and Customer Service
If you are concerned about your next off-road trip, AudioCityUSA has got you covered with premium quality and unbreakable performance. We offer our customers with the best shopping experience with an option to customize the wheels according to their liking. You can get these high-quality products delivered right to your doorstep. We also provide discounts and special offers from time to time to treat our customers with the best possible services. Check out the complete selection of wheels above, with the complete information of their features, sizes, colors, model, and condition. Fitment of all the wheels is guaranteed by the AudiCityUSA team. You just have to place an order and get in touch with our team for an amazing experience.


---
Here at AudioCityUSA Wheels, we know how important it is for you to find the perfect fit to complete the look of your car, truck, or SUV. AudioCityUSA Wheels has been in business since 1989 and our goal has always been to provide our customers with high-quality products and excellent customer service with unbeatable prices and fast shipping. We pride ourselves in carrying the largest selection of wheel and rim brands, sizes, and finishes available on the market for any vehicle and we have been a distributor for major brands such as Lexani, Asanti, Giovanna, Savini, AC Forged, Rohana, Vossen, Iroc, Niche, Dub, Fuel, and more, for many years. Our dedicated team of experts have years of extensive knowledge and will be happy to answer any questions you may have about our wheels and tires.

So whether you are looking for staggered wheels, off-road wheels, or custom wheels, you can be sure that you will find exactly what you want for your car, truck, or SUV.
---
AudioCityUSA
If you have any questions,
Call our specialist at (888) 814-1158

Online Sales & Support (PST)
– MON-FRI: 7:00am – 6:00pm
– SAT: 7:00am – 5:30pm
– SUN: 10:00am – 5:00pm

Local Store (PST)
– MON-SAT: 9:00am – 5:30pm
– SUN: 10:00am – 5:00pm


---
Local Installation Available!
13927 Amar Rd. La Puente, CA 91746
Los Angeles
La Puente
Baldwin Park
El Monte
Covina
West Covina
Pomona
Rowland Heights
Hacienda Heights
Chino
Ontario
---
No Credit Needed – Wheel Financing
APPLY NOW!
---