is always bringing out new colors and they brought out a new Candy Copper color
and its on their Famous STR 607 deep concave profile wheel.
STR Wheels 607 Candy Copper Rims Wheel comes in 20×9 & 20×10.5 and comes in 5×112, 5×114.3, 5×120 to accommodate multiple vehicles.
Have you ever wanted a metallic plated wheel but some of them are just a bit too over the top? Looking for new wheels that fit your car? Do you need something to elevate your car's look? Want to see your car's potential? Want to stand out of the crowd? Yes, we all want that and we have just the perfect one for you yet!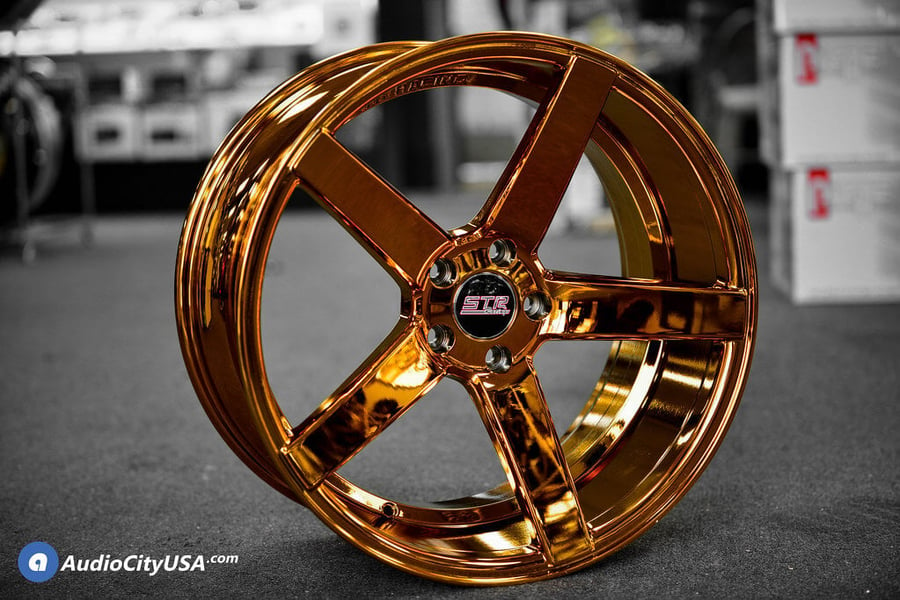 Generally, the rims and wheels are important parts of a car in terms of speed and durability. They are basically essential to any car, but of course they can't last forever, we will evantually come to a time where we would have to replace these. Our wheels need some taking care of as well, inside and out. The car's wheels and rims are like the gems of the car, it gives that final touch in completing the look and also, even making your car a dream to others. These parts should not be underappreciated, as the wheels and rims are all needed to make your car move and function properly. They need a good look as well, just like your car's body, they can also give a fine upgrade in terms of your car's appearance and function.
We are giving you STR Wheels, bringing us some new and obviously awesome colors! As they always are, STR Wheels have been amazing with their different colors, designs and styling. No wonder that they are at the top of their game. They have more in store for us soon I'm sure, but for now let's have a look at their brand new release, a brand new color for us to look at.
Commonly, we would be seeing wheels from silver to black or gold. This time, they are back and they just brought out their new Candy Copper colored rims, displayed on their very own, famous wheel, the STR 607 deep concave, profile wheel. How cool does that look!
Very stylish and made with high quality materials. A one of a kind metallic finish with a unique shade of copper. Made to give your car a slight but eye catching elegance, and is made to fit almost every vehicle. These wheels give out a slick and fresh new look to your car. The Candy Copper colored wheels can go well with any color. Therefore, making it versatile to any car's paint job and giving your vehicle a major upgrade on its looks, speed, durability and overall performance. What else can you ask for? It's beautifully made and it will surely make your car stand out.
makes sure that they give quality products, meant to satisfy their customer's wants and needs, taking proper care of your vehicle whenever needed. All wheels and rims are carefully made with quality materials and proper handling. Ranging from standard sizes to multiple vehicles, it's a one stop shop for your wheel and rim's care and maintenance.
Moving on, we have a range of sizes for the new Candy Copper colored wheels, making it available for most cars out there. You have to get a perfect fit for your car, that's why SRT Wheels and Rims is giving different options, may it be a standard sized wheel, or for multiple vehicles, they have it! Not just you, but everyone will also love this new color, a metallic copper shade making your wheels shine on the roads you drive and giving your car a classic look. Set your Gold and Silver wheels aside, this Candy Copper finishing is the perfect amount of sophisticated look with any kind of car. A balance between modern and classic, a combination of edgy and sophisticated. This color is for sure, to leave an impression to anyone that sees your car.
Feel free to give us a call for any detailed information
(626) 814-1158
If you're considering to customize your vehicle,
Check out our wheel special list suggestion.
---
We provide NO CREDIT NEEDED Leasing and Financing Service!
---
STR Wheels For Performance And Style
Out of all its competitors, STR Racing wheels is, generally one of the top JDM style wheel manufacturers in the industry today. The STR wheel company itself has different styles and colors with intent that many consumers are looking for as well as the finishes that stand out from the rest, which makes these wheels look attractive and pleasing to the eyes. They also enhance your car's potential. Therefore, not just giving your car a new look but an upgraded performance as well. STR wheels and rims for the most part, continue to set the standard in the JDM community, and will be keeping the trend alive and going. These wheels and rims have different sizes, starting from a standard size of 15″ all the way, up to 22″, you can surely and definitely find a style that will suit your vehicle with top performance.
Check some of these cool STR Wheels out! (Image click for each wheels details)


Follow us on Facebook and join our Group discussion or for tips and Tricks for related to Auto Wheels and Tires visit our Google Business page. Click here if your looking for our Hottest Sale and Deals!
Check Various STR Wheels (Image click for each wheels details)










---
Local Installation Available! 13927 Amar Rd. La Puente, CA 91746
La Puente
Baldwin park
El Monte
Covina
West Covina
Pomona
Rowland Heights
Hacienda Heights
Chino
Ontario
LA County Area
---
AudioCityUSA
If you have any of question, Call our special list at (626)814-1158
(Pacific Time / 9am-7pm Mon to Sat , 10am-5pm Sun)
13927 Amar Rd. La Puente, CA 91746
---
We provide NO CREDIT NEEDED Leasing and Financing Service!
---