The Porsche 911 Turbo is an iconic sports car that has captured the hearts of car enthusiasts worldwide for decades. Known for its exceptional performance, advanced engineering, and timeless design, the 911 Turbo is a true masterpiece. One of the essential components that contribute to the car's impressive performance and striking appearance is its wheels. In this article, we will explore the Porsche 911 Turbo wheels, their design, available options, and how they impact the car's performance and aesthetics.
Design and Options
Porsche offers a range of wheel options for the 911 Turbo, allowing owners to personalize their vehicle and enhance its performance. Wheel sizes typically range from 19 to 21 inches, with various designs, materials, and finishes available to suit different tastes and preferences. Some popular options include:
Standard Wheels: The 911 Turbo comes equipped with high-quality alloy wheels that are both lightweight and durable. These wheels are designed to optimize performance and provide excellent heat dissipation for improved brake performance.
Custom Wheels: Porsche offers a range of custom wheel options for the 911 Turbo, allowing owners to personalize their vehicle's appearance and enhance its performance. Custom wheels can feature unique designs, finishes, and sizes that set them apart from standard factory wheels.
Forged Wheels: Forged wheels are made from a single piece of aluminum, making them lighter and stronger than traditional cast wheels. This weight reduction can improve acceleration, handling, and fuel efficiency, making forged wheels a popular choice among performance-oriented 911 Turbo owners.
Center Lock Wheels: Exclusive to Porsche's high-performance models, center lock wheels feature a single central nut that secures the wheel to the hub. This design is inspired by motorsport and offers quicker wheel changes during pit stops, as well as a distinctive, race-inspired appearance.
Impact on Performance and Aesthetics
The right set of wheels can greatly enhance the Porsche 911 Turbo's performance and handling. Lightweight wheels, such as forged wheels, can improve acceleration and fuel efficiency, while larger wheels with wider tires can provide better grip and traction, enhancing cornering and braking capabilities.
In addition to performance benefits, the wheels of the 911 Turbo play a significant role in the vehicle's overall aesthetics. A carefully chosen set of wheels can complement the car's design and make a bold statement. Whether opting for a classic design or a more aggressive, modern style, the right set of wheels can transform the look of your 911 Turbo.
Customize with Rohana Forged Wheels

ㆍ Vehicle: 2017 Porsche 911 Turbo S

ㆍ Wheels: Rohana Forged RFG3 *Custom Center Lock Gloss Black with Color Matched Hardware
Front:20×9″ | Rear: 21×12″

ㆍTires: Pirelli Tires P-Zero PZ4
Front: 245/35R20 | Rear: 305/30R21
---
No Credit Needed – Wheel Financing
APPLY NOW!
---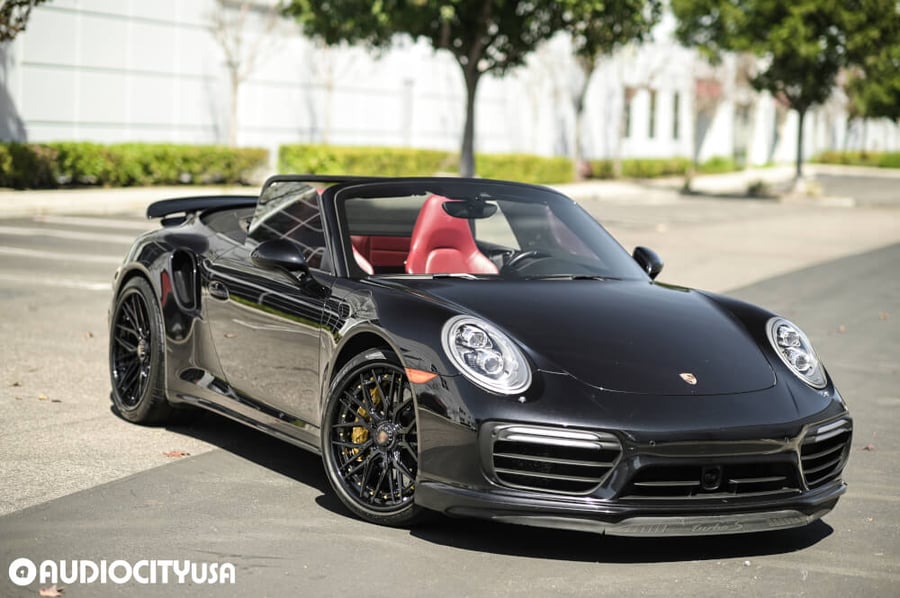 ---
Here at AudioCityUSA Wheels, we know how important it is for you to find the perfect fit to complete the look of your car, truck, or SUV. AudioCityUSA Wheels has been in business since 1989 and our goal has always been to provide our customers with high-quality products and excellent customer service with unbeatable prices and fast shipping. We pride ourselves in carrying the largest selection of wheel and rim brands, sizes, and finishes available on the market for any vehicle and we have been a distributor for major brands such as Lexani, Asanti, Giovanna, Savini, AC Forged, Rohana, Vossen, Iroc, Niche, Dub, Fuel, and more, for many years. Our dedicated team of experts have years of extensive knowledge and will be happy to answer any questions you may have about our wheels and tires.

So whether you are looking for staggered wheels, off-road wheels, or custom wheels, you can be sure that you will find exactly what you want for your car, truck, or SUV.
---
Local Installation Available!
13133 Telegraph Rd, Santa Fe Springs, CA 90670
Audio City USA
If you have any questions,
Call our specialist at (888) 814-1158

Business Hours (PST)
– MON-FRI: 7:00am – 6:00pm
– SAT: 7:00am – 5:00pm
– SUN: 10:00am – 3:00pm

---

---