The Chevy Impala has seen many different design changes over its lifetime. There are fans that believe that the classics are far better in design than the newer models. I'm sure that you also have a favorite body style, but we think this new generation of Impala looks pretty menacing in black.
This customer wanted the largest wheels he can fit under the fender wells without modification. We were able to find an awesome set up for this 2018 Chevy Impala,  wheels with a classic Chevy look and we installed the Iroc Wheels Black Machined 5-lugs Rims.
Wheel and tire set up is 22×8.5 wrapped with 245-30-22 Lexani Tires with no rubbing issues.
Let's check this set up, shall we?
(888) 814-1158
Feel free to give us a call for any detailed information
(888) 814-1158
If you're considering to customize your vehicle,
Check out our wheel specialist suggestion.
---
Specifications(as seen in the photos below):
• Vehicle – 2018 Chevy Impala
• Wheels – 22×8.5 Iroc wheels Black Machined 5-lugs Rims  
• Tires – 245-30-22 Lexani Tires
---
We provide NO CREDIT NEEDED Leasing and Financing Service!
---
IROC Wheels For Performance And Style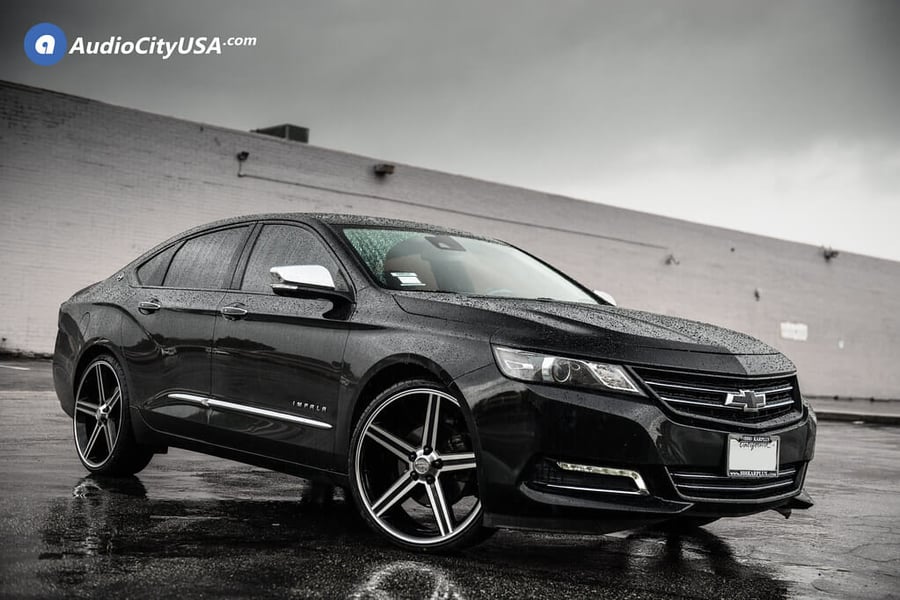 IROC Wheels are made of high-standard materials, allowing you to keep stable and fast driving on the road. These wheels have been carefully designed to bring a comfortable driving experience to the vehicle. What a beautiful environment and amazing vehicles. You will have the style, speed, durability and power of these new wheels. Compared with other wheels, the use of these black machined wheels can make them have excellent smoothness and reduce wear. These wheels have Black Machined rims, which provide extra protection for these wheels, making them more durable for races and long trips in any kind of weather. IROC Wheels and Rims have been in the industry for quite a long time now. They have been one of the best providers of wheels and rims for racing, showing off their 5-spoke design on the rims giving a classic look on your vehicle. IROC Wheels have proved us that they do have top quality wheels and rims to offer that gives an upgrade to your car's performance.
The design of these IROC wheels will surely impress people and improve the overall performance of this beautiful 2018 Chevy Impala. It definitely gives a more aggressive look for this car, the design of these rims are simple but also completes the overall appearance of this vehicle. This is one of the best setups I've seen on a 2018 Chevy Impala. 
Affordable and sharp looking rims for your car, truck or SUV. With IROC Brand Rims, you are getting an old school design in a five and six arm star design. Simple and classic design makes these rims a great addition to some rebuilt autos of yesteryear. Whether you want chrome, black or a custom color combination, IROC can be the perfect match for your vehicle. With sizes ranging from 20 to 26 inches you are sure to find the perfect style to compliment your favorite old school ride. Can't afford the rims but don't want to let them pass you by? Don't worry! We have a quick and easy financing application to get you the rims you want without having to strain your budget. The good thing is there's no credit needed, and approval is instant! We also have a military financing program to help active full time service men and women get the wheels they want with a flexible payment plan. Contact us if you have any questions about financing. Audio City USA is not just rims either. We have a large selection of speakers, sub woofers and other audio components so you can turn heads with your sleek new rims and your loud rumbling bass!
Audio City USA has partnered with multiple manufacturers, to bring you the biggest selection of rims and wheels for your vehicle. Wheels sizing from 20″,22″,24″, up to 26″, and in many different finishes. You are sure to find a style that suits your taste.
Audio City USA we specialize in distributing the finest wheels for any ride. We offer a variety of unique luxury and custom made wheels. Giving your vehicle top performance, made with high quality materials to make sure you have your perfect dream car set up. Audio City USA provides good quality, proper installation, better performance, as well as an outstanding look for your car, truck or SUV. We offer brands such as IROC Rims as part of our inventory and we make it easy for you to get them on your vehicle as soon as possible with amazing prices and fast delivery.
---
Here at Audio City USA Wheels, we know how important it is for you to find the perfect fit to complete the look of your car, truck, or SUV. Audio City USA Wheels has been in business since 1989 and our goal has always been to provide our customers with high quality products and excellent customer service with unbeatable prices and fast shipping. We pride ourselves in carrying the largest selection of wheel and rim brands, sizes, and finishes available on the market for any vehicle and we have been a distributor for major brands such as Lexani, Asanti, Giovanna, Savini, AC Forged, Rohana, Vossen, Iroc, Niche, Dub, Fuel, and more, for many years. Audio City USA has a dedicated team of experts that have years of extensive knowledge and will be happy to answer any questions you may have about our wheels and tires.
So whether you are looking for staggered wheels, off-road wheels, or custom wheels, you can be sure that you will find exactly what you want for your car, truck, or SUV.
---
Local Installation Available!   13927 Amar Rd. La Puente, CA 91746
La Puente
Baldwin park
El Monte
Covina
West Covina
Pomona
Rowland Heights
Hacienda Heights
Chino
Ontario
LA County Area
---
Audio City USA
If you have any of question, Call our specialist at (626)814-1158
(Pacific Time / 9am-7pm Mon to Sat , 10am-5pm  Sun)
13927 Amar Rd. La Puente, CA 91746
---