Welcome to the world of ESV Wheels and EXT Wheels at AudioCityUSA, where we offer an exceptional range of stylish and high-performance aftermarket rims to enhance your vehicle's appearance and handling. Our premium ESV Wheels collection provides car enthusiasts with the perfect blend of elegance, durability, and performance.
Quality & Precision Engineering
ESV Wheels and EXT Wheels are renowned for their top-quality craftsmanship, utilizing cutting-edge technology and engineering to create some of the most sought-after rims on the market. Our selection ensures that you receive the finest wheels, designed with attention to detail and made from premium materials, guaranteeing a perfect fit for your vehicle.
Endless Customization Options
At AudioCityUSA, we understand that every driver has unique preferences when it comes to their vehicle's aesthetics and performance. That's why we offer a wide variety of ESV Wheel designs, finishes, and sizes, allowing you to find the perfect set to match your style and driving needs.
Unbeatable Prices & Customer Service
We pride ourselves on offering the best EXT Wheels, ESV Wheels at unbeatable prices. Our knowledgeable and friendly team is always available to help you make the right choice for your vehicle, ensuring a seamless shopping experience. With our commitment to customer satisfaction, you can trust AudioCityUSA to deliver the perfect ESV Wheels for your ride.
Upgrade Your Vehicle with ESV Wheels & EXT Wheels from AudioCityUSA
Elevate your driving experience and make a bold statement with our incredible range of ESV Wheels. Browse our selection at AudioCityUSA.com or give us a call at 888-814-1158 to speak with one of our wheel specialists.
Discover the difference ESV Wheels EXT Wheels can make for your vehicle today!
For this New 2021 Cadillac Escalade ESV
our customer wanted new Escalade wheels
with a deep lip and went with
26″ Artis Forged Wheels Profile 2 Custom
Matte Black Face with Gloss Black Lip.
Wheel and tire set up is 26×10 wrapped
305-30-26 Lionhart Tires with no rubbing issues.
For any detailed information feel free to give us a call.

(888) 814-1158

www.AudioCityUSA.com
---
Customize with Artis Forged Wheels

ㆍ Vehicle – 2021 Cadillac Escalade ESV

ㆍ Wheels – 26×10″ Artis Forged Wheels Profile 2 Custom Matte Black Face with Gloss Black Lip

ㆍ Tires – 305/30R26 Lionhart Tires LH-Ten

---
No Credit Needed – Wheel Financing
APPLY NOW!
---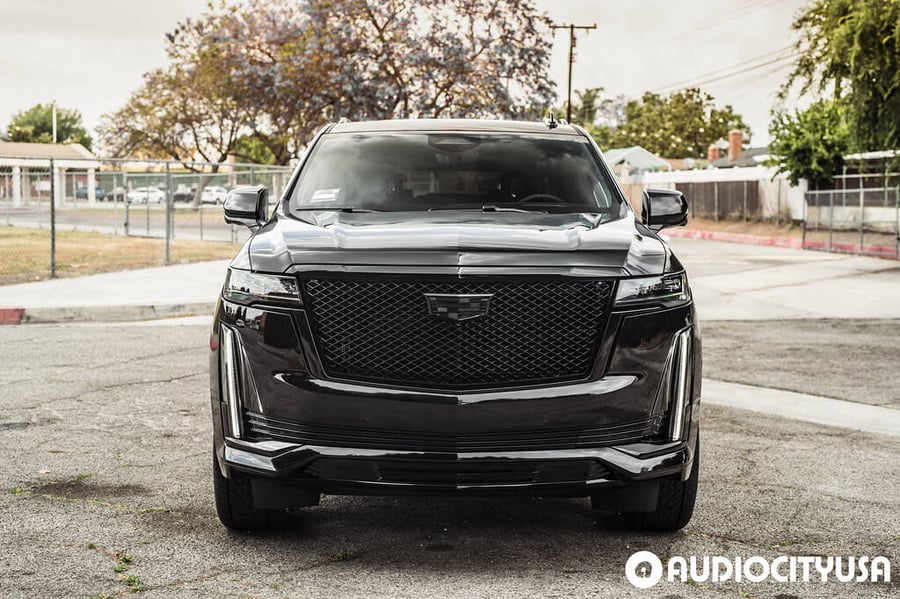 ---
Artis Forged Wheels was born in Southern California by virtue hyper-energized car enthusiasts who have a passion and love of extreme classic all-American cars and a sound belief that a car is an extension of a lifestyle. This passion has created an entire subculture of car owners who are drawn toward outrageous, eye-appealing, exotic wheel designs, that are out on the edge, somewhere between modern art and an unconventional wheel conception.
---
Here at AudioCityUSA Wheels, we know how important it is for you to find the perfect fit to complete the look of your car, truck, or SUV. AudioCityUSA Wheels has been in business since 1989 and our goal has always been to provide our customers with high-quality products and excellent customer service with unbeatable prices and fast shipping. We pride ourselves in carrying the largest selection of wheel and rim brands, sizes, and finishes available on the market for any vehicle and we have been a distributor for major brands such as Lexani, Asanti, Giovanna, Savini, AC Forged, Rohana, Vossen, Iroc, Niche, Dub, Fuel, and more, for many years. Our dedicated team of experts have years of extensive knowledge and will be happy to answer any questions you may have about our wheels and tires.

So whether you are looking for staggered wheels, off-road wheels, or custom wheels, you can be sure that you will find exactly what you want for your car, truck, or SUV.
---
Audio City USA
If you have any questions,
Call our specialist at (888) 814-1158

Business Hours (PST)
– MON-FRI: 7:00am – 6:00pm
– SAT: 7:00am – 5:00pm
– SUN: 10:00am – 3:00pm

---
Local Installation Available!
13133 Telegraph Rd, Santa Fe Springs, CA 90670
Los Angeles
Santa Fe Springs
Whittier
La Habra
Torrance
Long Beach
Anaheim
Fullerton
Orange
Pasadena
Glendale
La Puente
Baldwin Park
El Monte
Covina
West Covina
Pomona
Rowland Heights
Hacienda Heights
Chino
Ontario
---
No Credit Needed – Wheel Financing
APPLY NOW!
---